How Can Small Businesses Leverage The Use Of AI?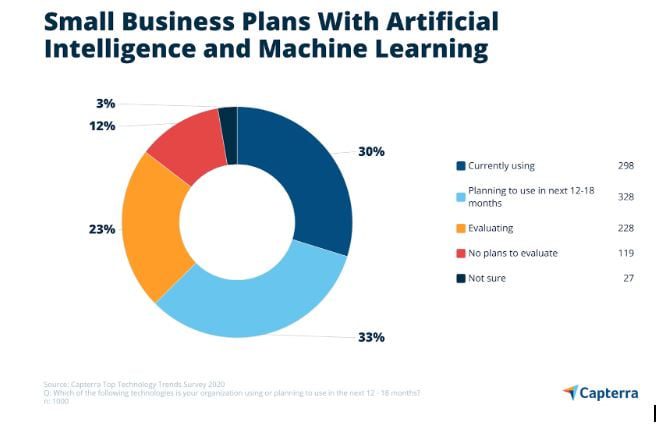 In the wake of such digital innovation, traditional business methods are becoming increasingly difficult to manage. With AI and machine learning on the rise, it's no surprise that some businesses are turning to these tools for help.

Artificial intelligence and machine learning are concepts that have held great promise across several industries. In the context of small to midsize businesses, AI can be applied to any number of business functions. As a result, companies can use this technology to streamline business processes to improve efficiency and gain a competitive advantage.
You could see dramatic efficiency improvements by integrating just one or two AI tools into your business. For example, you can free up time for more valuable work by using AI to automate routine tasks such as payroll processing, invoicing and accounting. Once implemented, these processes will run without human intervention or assistance.
Understandably, there are many skeptics of AI. Some fear the robot apocalypse, and others have concerns about job loss. In reality, the use of AI in business has the potential to displace only low-level tasks. The more significant impact will be on jobs requiring higher cognitive skills such as decision-making and planning.
Ultimately, artificial intelligence can make work easier for businesses. In many cases, this technology allows experts to focus on tasks where humans excel: pursuing new opportunities for growth and providing customer service. The key is determining where AI can benefit your business and implement it.
Fortunately, the growth of AI has led to the emergence of several new tools designed to simplify these processes and make them more accessible to SMBs. Here are just a few things that businesses can do with artificial intelligence.
Processing Data for Actionable Insights
Many business owners have been utilizing open data sets for years, but artificial intelligence can take this process a step further. First, consider how you typically use data sets to generate value. For example, you might run reports and then make decisions based on their findings. Alternatively, you might use data to predict trends or set benchmarks that help your team stay on track. It doesn't matter if you're creating a marketing strategy or planning for a future project; AI can help you find the information you need.
Sorting Through Big Data for Competitive Advantage
Most small businesses have to turn to outsourced services when it comes to big data. However, what if there was an AI tool for processing big data that also provided actionable insights. With this technology, your business could access the same kinds of data used by large companies. The likes of Samsung have used this to their advantage to see how consumers would react to folding smartphones before releasing their Galaxy Fold handsets, and even the government to spot trends and make better decisions. This is why keeping up with advanced tools like artificial intelligence and machine learning is essential.
Optimizing Key Business Metrics
Using artificial intelligence, your business can gain access to a variety of metrics that help you track and understand your performance. For instance, you can use this technology to track the number of leads generated from a particular campaign, the ROI of your marketing efforts or the average time it takes for new hires to become productive. Not only do these metrics help you manage processes, but they also provide a source of genuine insight for future planning.
Saving Time with Automated Tasks
Small businesses are often forced to do more with less. As such, it's no surprise that time is one of the most valuable resources for entrepreneurs and their employees. Using artificial intelligence, you can free up time to focus on the tasks that truly matter. For example, instead of spending hours on the phone with customers or filling out piles of paperwork, you can use AI to automate these processes and save even more time.
Predicting Troubles
Using a predictive tool like artificial intelligence, your business can scan your data and identify trends in a variety of areas. This gives your business the information it needs to predict potential problems. When used in conjunction with other tools, this technology can alert you when something has gone wrong and help you find a resolution faster than ever.
Taking Advantage of Vast Resources
The benefits of artificial intelligence go far beyond simply streamlining processes and making work more accessible. In the years to come, AI will become an indispensable resource for small businesses. It will help your business extract the most value from its limited resources and make better decisions about where to allocate them. For example, using AI, you could identify the areas that need improvement, gain access to a wealth of data or even improve your existing analytics tools.