Best Braids for Men Everyone Is Talking About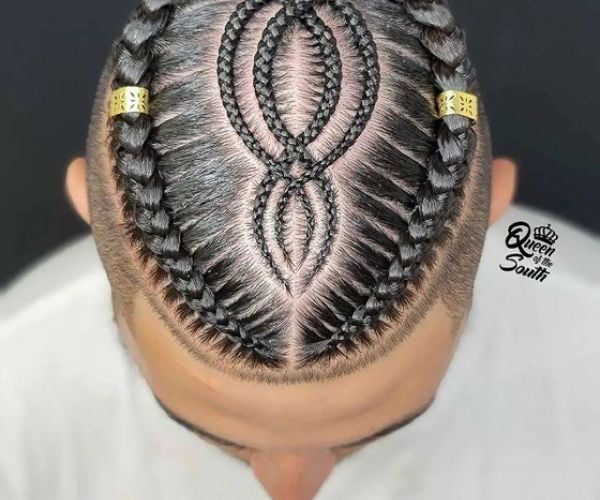 Braids have become a versatile hairstyle fit for both men and women. Braids for men have become diverse eliminating the common stereotype that they are only for women. Braids can be done on any hair type, texture, and size. They also have modifications and adjustments that make them suitable for any face shape. The biggest advantage of men's braids is that they can be done on natural hair without the need for any extensions.
Men's braids have become a stylish and common trend among men. They are styled in such a way that they are elegant while at the same time maintaining a masculine look. The following are some of the best braids for men;
1. Cornrows 
These are braids for men that are made using natural hair. The simplest way of wearing cornrows is having them braided from the front of the head towards the back in a straight line. The other ways of wearing cornrows are getting zig zag lines and other complex patterns on the hair. Cornrows do not require the hair to be long as the braids are usually done close to the scalp.
You can add an extraordinary look to your braids by using colored artificial hair to braid the cornrows. These are the ideal braids to get especially if you are not afraid to have a colorful hairstyle as a man.
Cornrows for men do not have to be done on the entire head. You can have a faded cut on the sides so that the cornrows stand out on top of the head. The hair should be partitioned using a comb and some gel so that the braids are as neat as possible.
2. Box Braids
Box braids for men are a perfect braid style for men who need a simple but fashionable appearance that is easy to maintain. This braid style achieved its name from the way the hair is sectioned before braiding it. The hair is usually divided into small square-shaped portions before braiding it from its root.
Box braids can be done using your natural hair or using extensions. The extensions are perfect for those with short hair as they help to add some length. You do not have to worry about hair damage as box braids are a protective hairstyle.
Box braids can be done on any hair texture and volume as they can be adjusted to fit your personal preferences. They are one of the easiest types of braids to maintain.
3. Braids With a Fade
Braids for men do not have to actually be done on the entire head. You can pair them with a well-buzzed side cut. Pairing your braids with a fade helps to highlight the braids on top of the head guaranteeing you a fashionable appearance.
Trim the hair on the sides and back of your head such that its size blends well with the type of braids on top of the head. The less amount of hair on the sides brings a fashionable contrast to the braids creating a hairstyle that is very easy to maintain.
4. Braid Buns
For men with long hair, buns will always give you an extraordinary appearance. Have the braids done such that they reach just at the center of your head? Ensure that the braid patterns match your style and help to maintain your masculine appearance. Once at the top of the head, wrap the braids into a perfect bun.
Ensure that the braids for men are well-trimmed and neat in order to get that appearance of a well-groomed man. Braid buns are very easy to maintain as they do not need much styling as long as the bun is well tied.
This braid style allows for accompaniments like facial hairs and fades. Well-trimmed beards help to give you a very classic appearance. The braids do not have to be necessarily done using your natural hair. The addition of colored braid extensions will give you an exemplary appearance. A skin fade cut on the back and sides of the head is a perfect way to complete the look.