Microsoft Dynamics 365: An Overview

Microsoft Dynamics 365 is a suite of Business Applications from Microsoft that covers the traditional ERP and CRM functions. Key components of Microsoft Dynamics 365 include – D365 Finance, Supply-Chain, Sales, Service, Field Service, PSA, Business Central, and some others. Microsoft Dynamics 365 enables a customer succeed with his digital transformation journey. It helps customer automate and transform processes related to internal operations and customer experience. It helps customer securely access enterprise systems from the cloud and provide anytime – anywhere access. Dynamics 365 gives the customer the power to build 'insights' to various dimensions of the business, and take timely actions.
All E Technologies: Microsoft Dynamics 365 Implementation Partner
Microsoft is increasingly embedding significant AI capability into its products. Various features of Dynamics 365 products are drawing upon the power of AI – sometimes even without the user realizing so. Features like Customer Insights, Sales Insights etc. are AI leveraged analytics and predictions. The Power Platform has several components that use Azure Cognitive Services. Microsoft has largely succeeded in democratizing AI.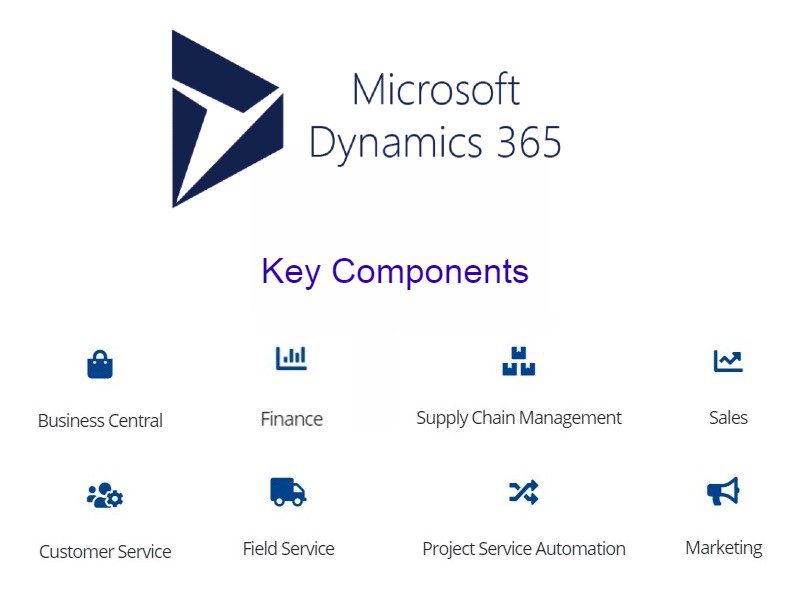 The business applications included in the Microsoft Dynamics 365 stack:
Dynamics 365 Sales: designed to support automation of the sales process from lead acquisition to close of sales. As leads are identified and qualified the system enables the customer to create an Account, Contacts, and convert them into Opportunities. Progress on the lead, including all communications, and development stages can be tracked to a point of converting them into an Order. Customer can also generate an Invoice, or integrate with one of the ERP systems, e.g. Dynamics 365 Finance or Dynamics 365 Business Central, to generate invoices
Dynamics 365 Marketing: is a marketing automation application that enables the customer to not only manage the core marketing functions like email marketing, customer journeys, behaviour tracking, and lead scoring etc., it also gives the customer the ability to do event management functions, manage surveys, and more.
Dynamics 365 Customer Service: provides features & tools for organizations to manage the services they provide to customers. Customer issues are tracked through cases and all interactions related to a case are recorded. Customer can create queries, and route cases to the right channel. Service-level SLA can be created and tracked, service schedules can be created, and performance & productivity can be managed.
Microsoft Dynamics 365 Field Service: helps organizations in the management of delivering onsite services at customer locations. Customer can define service locations, customer assets, predictive & preventive maintenance, work order management, product inventory, resource management, scheduling and dispatching, customer billing etc. The application combines workflow automation, scheduling algorithms, and mobility for the mobile workers.
Microsoft Dynamics 365 Project Service Automation (PSA): is for organizations providing project-based services. Customer can define, track, and deliver project services, with the ability to manage right from the sales stage to invoicing. Customer can plan and estimate projects, track project costs & revenues, forecast resource requirements, manage quoting, pricing and billing, assign and manage resources. The resources fill timesheets for the tasks assigned to them. Projects of all types – milestone-based, as well as T&M, can be managed with PSA.
Microsoft Dynamics 365 Finance and Supply Chain: is Microsoft's enterprise-scale ERP that's suitable for mid-sized and large organizations. The product is now two separate applications – Dynamics 365 Finance, and Dynamics 365 Supply Chain Management. D365 Finance enables the customer to automate and modernize their global financial operations. Customer can monitor performance in real-time and predict future outcomes. The D365 Supply Chain Management enables the customer to manage their global operations, supply chain and manufacturing. It gives the customer the ability to integrate IoT, mixed reality and AI.
Microsoft Dynamics 365 Retail: is now known as Dynamics 365 Commerce. It brings customer comprehensive omnichannel commerce-enabling customer to give their customers exceptional, insightful shopping experience. Engage customers across e-commerce sites, in-store visits, call centres and emerging channels. D365 Commerce has everything customer need to build and run digital commerce, build loyalty and exceed customer expectations, and streamline operations using AI in the cloud.
Dynamics 365 Human Resources: enables the customer to build data-driven employee experiences for areas like – compensation management, benefits, leave & absence, compliance, payroll integration, performance feedback, training & certifications etc. It enables the customer to transform employee experiences, optimize their HR programmes, increase organizational agility and discover workforce insights.
Dynamics 365 Remote Assist: is a collaborative maintenance & repair tool. It enables technicians to solve problems faster by working together from different locations – on HoloLens, HoloLens2, Android or iOS devices. This enables the customer to bring an expert's opinion virtually and work collaboratively with a local maintenance person. The expert can walk the site, without being onsite.
Microsoft Dynamics 365 Business Central: is a cloud-based Enterprise Resource Planning (ERP) system which is the successor product to Microsoft Dynamics NAV, Microsoft Dynamics GP and Microsoft Dynamics SL. Modern, and with several AI-powered features, D365 BC is a comprehensive solution for small, medium, and upper mid-sized organizations to manage finances, manufacturing, supply chain, sales and customer service. Customers have the option to have D365 BC implemented on-premises or use from the Microsoft cloud.
There are several reasons that will influence an organization's decision in favour of Dynamics 365. The Microsoft Business Applications suite, which includes Dynamics 365 and Power Platform, together with Azure and Office 365 | Microsoft 365 – provide unparalleled power and experience to customers. The ease of integration with Office365 | Microsoft 365, the seamless hybrid cloud options, and the Power Platform brings are absolutely stunning. Microsoft keeps bringing technical innovation to its products – enabling a successful Digital Transformation journey for businesses in today's world.