SharePoint Development Trends to Follow in 2020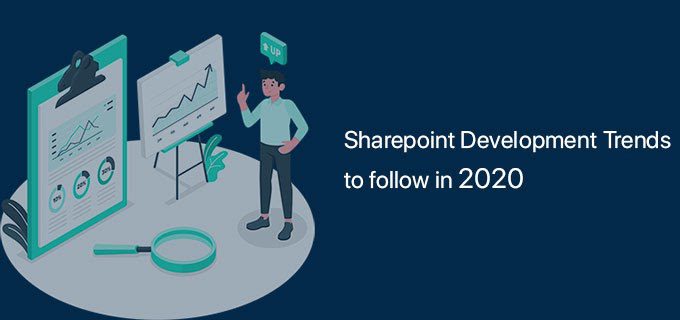 This year, we observed that several of the most exciting technologies for software application development have become practicable in a commercial sense, and finally few are going mainstream. New trends are expected and various software solutions would also update and set the trend. Over the years, the development of SharePoint solutions has substantially changed.
Owners of SharePoint who started using it during the early 2000s now have multiple On-Premises versions at their disposal, aside from Office 365, Microsoft 365, and the cloud-based SharePoint Online. All these have made SharePoint development a seamless endeavor. 
The platforms Office 365, SharePoint Online, and Microsoft 365 come with out-of-the-box features and designs that are more mature, thus developers don't have to spend a lot of time crafting a solution on top of the versions from scratch. They nonetheless still have to face several challenges related to customization of the available cloud ecosystem, making SharePoint pros move to alternative development methodologies. So, what are the trends to follow for SharePoint this year and onwards? Let's find out. 
Trends in SharePoint Development This Year and Onwards
These key trends in SharePoint development help organizations succeed in creating, managing, and using modern solutions that are SharePoint-based in on-premises and in the cloud. 
Not using farm solutions
Organizations that run on cloud-based and on-premises deployments, as well as those that switch from on-premises to cloud-based often face a common problem. They try handling on-premises and the cloud SharePoint development with the same approaches and toolkits. Is this dangerous? Yes. 
Because when comparing SharePoint Online versus SharePoint On-Premises, we'll find important differences in logic deployment. Organizations, upon acquiring the SharePoint Server become the sole owners of their solutions. Meaning that they could decide on the approaches to customization, design, and management. 
Leverage PnP and SPFx Best Practices
In order to support companies in their change from traditional server-oriented to modern development, Microsoft has launched a brand-new development approach based on the SPFx or SharePoint Framework. SPFx is a web part and page model, which provides thorough client-side SharePoint development support, as well as easy integration with SharePoint data. As client-side-oriented, it also lets developers use different open-source technologies and frameworks. 
The greatest benefit of SPFx however is that it sets organizations free from traditional .NET-centered development. Meaning that even organizations that never engaged developers now could handle the development of SharePoint solutions through involving professional custom software development services with developers with various tech skills, which include programmers who specialize in JavaScript technologies. 
Non-stop Expansion of Knowledge
Changing the development approach implies new skills and knowledge as well that the development teams must have to successfully accomplish a project. More training may be needed to align the competencies of specialists with the current Office 365 and SharePoint Online current requirements. In all, to keep up with the development updates, it's highly recommended for professionals to adhere to the SharePoint community activities or even become active members. 
Moreover, professionals should also keep tabs of updates from Microsoft, especially in terms of releasing new security packs and features. As Microsoft pays more attention to Microsoft 365 and Office 365 maintenance, updates are weekly, if not daily, thus, developers have no way of missing out on changes. 
Putting more into Testing
The lack of SharePoint testing necessitates three important issues, including inferior performance, inconsistencies in integration, and disparity in governance. At some point, a solution could become a jumble of developed and deployed features by different people. If customizations aren't well-tested, then issues in inferior performance, then sooner or later issues could come up, and restoring normal operation will not be easy. 
Untested customizations not only affect normal integrations functioning, it also impacts third-party solutions. If there are security loopholes in post-customization, they could allow malicious acts into the connected organization systems, which significantly increases the severe breaches in security risk. With the absence of formal testing requirements, each new customization would be a pig in a poke. When a company outsources development without testing guidelines, they could risk having solutions created based on various programming languages, different logic, or designs. 
Bearing with the Policies of Microsoft
When issues in performance within the server-based deployment, the admins of SharePoint could access quickly their in-house infrastructure to discover the root causes of their concerns. In general, specialists could manage emerging problems on their own by modifying the code of the platform and finding workarounds. A frequent issue for custom software development is performance. 
If such issues happen, understanding and explaining to customers that local teams just can't do anything but wait for Microsoft to handle it is critical. Moreover, developers could also face different concerns at the technology level. 
The performance heavily depends on the location of the datacenters since developers aren't able to improve it. The key is to stick to the recommendations of Microsoft to minimize inoperability risks. 
Conclusion
Keeping updated on the SharePoint trends helps you to be aware of the new capabilities and updates of the platform. The trends to follow this year and even onwards could greatly contribute to more organized and seamless organizational processes. 
Author Bio:
Tara Maples is a tech geek and an enthusiast writer whose aim is to create informative and compelling content to help readers navigate through the vast and ever-changing IT Sector.