The Ultimate Guide to Choosing MSc as a Career Option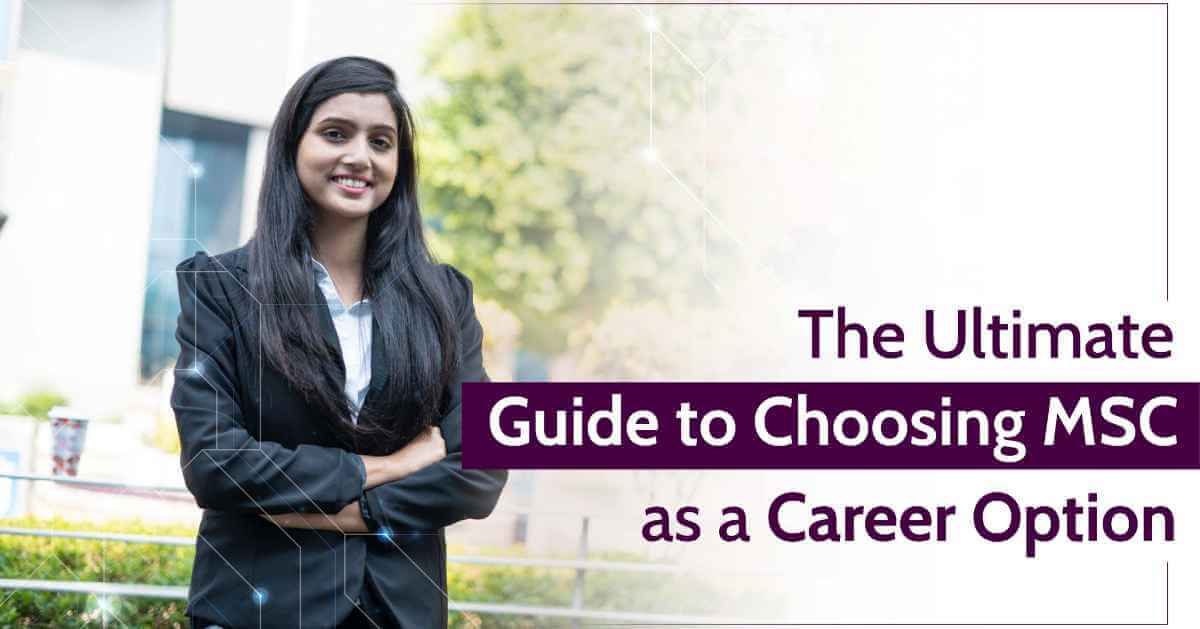 No one is as thorough about ensuring that their children get exposed to as many career choices as possible as Indian parents. That is why our parents' first choice for higher education when it comes to choosing a stream has been the Science stream. Stereotypes aside, we Indians have a gift for science, mathematics and similar technical subjects, and no other country produces as many graduates in the science stream as India.
While the top choice for studying to build a career in the field of science is still a bachelor's degree in Engineering, MSc degrees can be a great option too. Hence, in this blog, we will explain what an MSc is, the benefits of studying it, the requirements for applying to it, and some of the career paths you can follow after graduating from the best msc colleges in Gujarat.
What is an MSc
MSc is a two-year postgraduate degree that allows you to deepen your knowledge and skills in a specific area of mathematics, science or computing. It is usually composed of theory and practical classes and a research project or dissertation. Nowadays though, MSc courses have evolved, with the subjects being offered spanning areas in design, social sciences, hospitality, agriculture, and much more.
There are a great number of colleges that offer these courses, including msc colleges in Gujarat, so it can get confusing for someone trying to pick one from them. Thankfully, we have provided a table below so that you can get a general idea about MSc courses irrespective of the college or subject you choose.
| | |
| --- | --- |
| Course Name | Master of Science (MSc) |
| Level | Postgraduate |
| Duration | 2 years |
| Type | Full-time, Part-time, Online |
| Mode of Examination | Yearly or Semester System |
| Eligibility Criteria | 60% or more in graduation with a relevant subject |
| Admission Process | Merit-based or Entrance Exam based |
| Common Entrance Exams | IIT JAM, CUET, BITSAT, CUSAT CAT, etc. |
| Average Fee Range | INR 20,000 – INR 1 Lakh |
| Average Salary Range | INR 2 – 9 LPA |
| Areas of Recruitment | Research, Academia, Pharmaceuticals, Biotech, Information Technology, Agriculture, Energy, Healthcare, etc. |
MSc Specialisations and Subjects
Since it is impossible to have a general MSc course that combines every field of science in some way, these courses come in a lot of subject or specialization options. Depending on your interests and goals, you can choose from a wide range of MSc programs at msc colleges in Gujarat and other parts of India, such as:
MSc in Mathematics
MSc in Physics
MSc in Chemistry
MSc in Biology
MSc in Computer Science
MSc in Information Technology
MSc in Biotechnology
MSc in Zoology
MSc in Data Science
MSc in Psychology
MSc in Agriculture Analytics
And many more.
Requirements and Options for Applying to MSc Courses
To apply to MSc programs at the best MSc colleges in India, you usually need to have a bachelor's degree in a related field with a good academic record. You might also need to provide other documents such as transcripts, letters of recommendation, personal statement or CV. Some programs might also require you to take standardized tests such as GRE or GMAT or even an independent online test conducted by the university itself – as the ones DAIICT takes.
Depending on your preferences and circumstances, you have different options for applying to MSc programs. You can apply to:
Full-time programs: These programs are the most common in the best msc colleges in Gujarat and the rest of India and require you to attend classes and complete assignments on a regular basis for two years. They are suitable for students who want to focus on their studies and finish their degree quickly.
Part-time programs: These programs allow you to study at your own pace and balance your studies with other commitments such as work or family. They usually take longer than two years to complete but offer more flexibility and convenience.
Online programs: These programs allow you to study from anywhere in the world using online platforms and resources. They offer the same quality and content as on-campus programs but with more accessibility and affordability.
Benefits of Studying MSc
Studying MSc at the best Msc colleges in Gujarat can have many benefits for your personal and professional development. Some of the benefits are:
Enhance your knowledge and skills in a field that you are passionate about and that is relevant to the current and future needs of society.
Develop your research abilities and learn how to conduct independent and original investigations on a topic of your choice.
Expand your network and collaborate with other students and professors who share your interests and goals.
Increase your employability and career prospects by gaining a competitive edge over other candidates who have only a bachelor's degree.
Pursue further studies at the doctoral level if you want to become an expert or a researcher in your field(for example, opt for an MSc IT course from the best MSc IT colleges in India if you want to conduct research in emerging technologies in the IT sector).
Career Paths After Graduating from MSc
Graduating from the best MSc colleges in Gujarat can open up many doors for you in various fields and industries. Some of the career paths you can follow are:
Academia and Education: You can pursue a PhD and become a professor or a researcher in a university or a research institute(like the best msc colleges in Gujarat).
Industry: You can work as a scientist, engineer, analyst, consultant, manager or leader in a private or public sector organization.
Entrepreneurship: You can start your own business or join a startup in your field.
Here are the salary estimates for some of the common job roles you might get after completing an MSc from some of the best engineering colleges in Gujarat, India:
| | |
| --- | --- |
| Job Role | Average Salary (INR) |
| Research Scientist | 9 LPA |
| Junior Research Fellow | 3.7 LPA |
| Food & Drug Inspector | 7 LPA |
| Research Assistant | 6 LPA |
| Laboratory Technician | 5 LPA |
| Professor/Lecturer | 8 LPA |
| High School Teacher | 2.5 LPA |
Conclusion
MSc is a rewarding and challenging degree that can help you achieve your personal and professional goals. Pursuing one from msc colleges in Gandhinagar like DAIICT can provide you with the knowledge, skills, network and opportunities that you need to succeed in your chosen field.
Hence, if you are interested in getting an MSc from the best msc colleges in Gujarat, you should start researching the programs that suit your interests and goals, prepare your application materials, and apply today!
FAQs
Which is the best Msc college in Gujarat?
Dhirubhai Ambani Institute of Information and Communication Technology is among the best Msc colleges in Gujarat.
What MSc subjects are offered at DAIICT?
DAIICT offers MSc courses in Information Technology, Agricultural Analytics, and Data Science.
Is the MSc in Agriculture Analytics any good?
Yes. The Agriculture Analytics program at DAIICT is offered in collaboration with the Indian Institute of Remote Sensing and ISRO, among others, both top government institutions in mapping and space technologies. On top of that, domain-specific courses like Crop Yield Modeling by SATSURE Analytics, Enhanced Weather Forecasting by IBM India, Spatial Analysis with ArcGIS Pro by ESRI India, and AI in Agritechnology Business by AMNEX Info Technologies are also included in this MSc program.
Which companies hire Msc in IT graduates from DAIICT?
Companies in the technology sector like Amazon, Morgan Stanley, Google, Airtel, Hike, Oracle, Samsung, Flipkart, LinkedIn, and many more hire MSc IT graduates from DAIICT.