3 Best PDF-to-Word Conversion Tools You Should Use for Your Online Class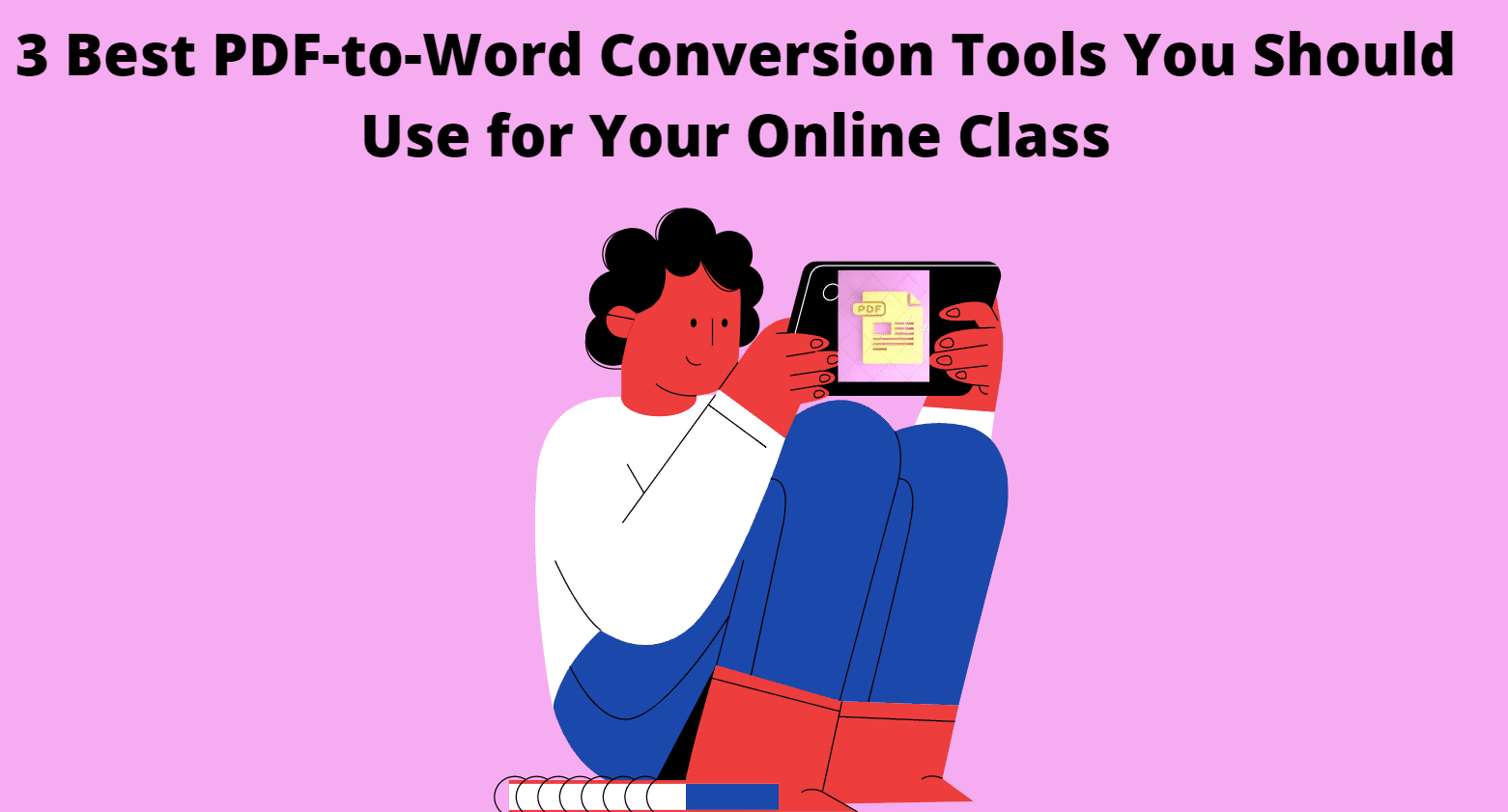 3 Best PDF-to-Word Conversion Tools: COVID-19 pandemic has become a great challenge to most people around the world. It has even brought a significant challenge to the education sector. Teachers and students aren't allowed to go to school yet in some states and other countries. Hence, online classes are prevalent as a solution to the problem.
Teachers can continue to deliver lessons, and students can still attend classes even in the middle of the pandemic crisis. However, the pandemic also affected the typical teaching and learning materials used at school. Everything is now computer-generated. Books, handouts, and other learning materials can be viewed and accessed online and usually in PDF format.
PDF is considered to be a universal format that doesn't consume much storage of your device. Hence, it's ideal for smartphone downloads. However, if you need to make changes to your existing PDF files, you need to convert PDF to an editable format. That's why you need to use a PDF to Word conversion tool. Read the details below to know the three best PDF to Word conversion tools that you should use for your online class.
PDFBear Conversion Tool
Online classes usually take a few minutes or a maximum of one hour, depending on your lessons. Hence, when you need to apply some revisions on your available pdf files for your projects or homework, you need to use a pdf to word conversion tool with a fast process. PDFBEar has an online conversion tool that will surely convert your files as quickly as possible.
When you use a PDF to Word converter tool of PDFBear, you only need to upload your files on their official website. You can simply click Select Files or drag your files and drop them on the PDFBear conversion tool online. The system will then quickly process scanning your PDF files and convert them into a Word document format.
Once it's successfully done, you need to click the button three times simultaneously to ensure that the converted files are downloaded on your device. It's how fast it is to use the online file conversion tool of PDFBear. The process is quick and will surely save much of your time.
Smallpdf
When you choose an online file conversion tool, you should consider the protection of your electronic files. Hence, you have to choose a converter that will keep your files safe and secure. Besides PDFBear that gives protection for your documents, you can also use Smallpdf. It's another useful online file management platform that you can use for your electronic files.
When you convert your PDF files to Word document format, you need to upload your PDF files online. The online tool will start the extraction and conversion process. Once it's done, you can download the converted files to your hard drive. The online system of Smallpdf will delete the uploaded files for good after one hour.
Hence, it's how safe it is to use the PDF to word conversion tool of Smallpdf for your online classes. It ensures the security of your uploaded files that no one can access them without your permission. That's why the system is smart enough to delete them after 60 minutes.
Nitro Sign
Nitro Sign is another online file management platform that you can use for your online classes. It offers various online services for your electronic files, including the editing feature for your PDF documents. Nitro's online system applies changes to the details of your PDF files like pages, paragraphs, graphics, photos, and other elements.
Moreover, the online system of Nitro Sign lets you create a PDF document from scratch. It also merges different PDF documents into one single file that's easy to organize and retrieve from your hard drive. You can also quickly share your PDF files to other devices and even eSign documents in the quickest possible time without any need for printing, scanning, or signing any paper.
On the other hand, one important feature of Nitro Sign is its PDF to Word conversion tool online. This is the tool you usually need with all of the electronic files that you use for your online classes. The conversion will typically take a few seconds, depending on the number of files you're converting. Hence, the Nitro Sign is another file management platform online that will be of great help in managing and organizing your electronic files on your computer or smartphone.
In A Nutshell
Online classes integrate many computer-generated learning materials since the distribution of physical books and other printouts is still restricted in some areas due to the pandemic. Hence, learning materials are usually in PDF format, which is light and ideal for smartphone downloads.