Top 6 Tips of Effective Usage of Hashtags On Instagram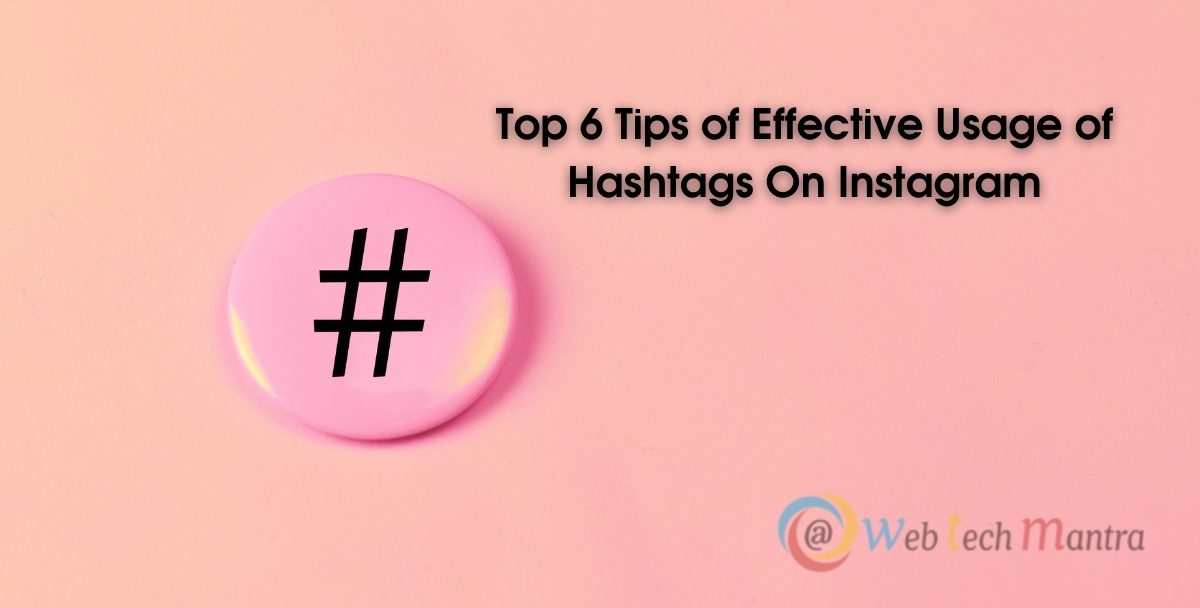 Instagram is a very popular social networking and photo-sharing site. If you wish to expand or promote your business, Instagram is a cut above the rest. You can showcase your product and services in style with their description.
It's celebrating its 10th birthday this year, and with a staggering statistics of over 1 billion monthly visitors worldwide, any brand can use it for their online brand promotion and visibility.
However, consistency is the key. You can't keep your Instagram visitors. You need to update it regularly with interesting photos and videos with relevant content, and hashtags.
Just like other social sites, hashtags play a crucial role on Instagram too. The use of hashtags offers an effective and instantly way to reach out to thousands of online users. You can go to the website to start implementing hashtags for your business objects. Adding relevant hashtags to your post increases your follower base in no time.
You can grow your Instagram followers by the meticulous implementation of your overall social media strategy. With more followers, you will be able to showcase your products to a wider audience
1)Connect With Your Target Audience
The first step is to analyse the age and demographics of your target audience. Use Instagram to initiate a conversation with them. By posting relevant images with relevant hashtags, you can showcase your products to the world.
2)Quality Images and Video
Your Instagram profile should have high-quality images and videos posted on the profile. Blurred and low-resolution images are a strict no-no. If your audience doesn't find quality images on your Instagram feed then they won't follow you.
3)Instagram Contests
You should launch some contests on Instagram on your post or story from time to time. You should offer some rewards to participants who give correct answers. For a wider reach, add relevant hashtags to those posts.
4) A Compelling Bio
Your Instagram bio has to be a compelling and intriguing one. That's how it strikes the chord with your followers at one go. An Instagram profile with a compelling intro and bio section always tends to perform better than others. This is one of the easiest ways to stand tall among your competitors.
As we already know, Instagram doesn't allow any link anywhere except its bio. So, you should make the best out of your Insta bio section. Every brand can post their official site link in the bio tool to ensure that users can directly visit their sites.
The dedicated Instagram tools like Linkpeak offer lots of features to its registered users. It helps you showcase all your essential links in one place. Today, users not only look at a brand's official website link, but they also want to see the brand's testimonials, other social media profiles, and its coverage on media. Through Linkpeak, any firm can effectively display those links.
Another advantage this Insta tool provides is link shortening. This becomes crucial when you want to accommodate more and more details within 150 characters. The tool also comes with customisable landing pages and effective analytics to enhance your brand reach and visibility.
5) Instagram Post Timing
The timing of your posts is crucial to your brand's visibility and success. Your Instagram posts are most effective when your target audience is active. That's why you have to find out what time should be convenient for your brand.
You can figure it out by repeated trial and error practice. You may still need to add popular hashtags for your post visibility.
For example; posting at late nights isn't recommended. At that time, your target users may not be interested in any decision-making process like opting for your products or services or even going to your site.
Your Instagram handle should publish interesting and unique content from time to time. Ideally, you shouldn't use more than four-five relevant hashtags in your posts. Anything more than that looks utterly promotional and spammy. Don't use too many hashtags to reach out to too many people as your post may look spammy and meaningless.
The Conclusion
As a rule, you can use up to 30 hashtags in a single Instagram post. However, don't use all hashtags at one go. Gaining new followers on Instagram isn't an easy task, but you can benefit a lot by integrating a correct hashtag policy in place.
Starting from brand-specific hashtags to niche-based hashtags, you should spend considerable time to consolidate your Instagram strategy. You can also use geotagging and location-based hashtags to promote a post at certain locations.
The idea is to use context-oriented hashtags in both the post and comment section. Start with adding four-five hashtags on your post and a few more in the comment section. That's how you should intelligently place your hashtags on Insta posts considering the target audience in mind.