Take a Look at the 4 Devices Without Worrying about Smart Watch Prices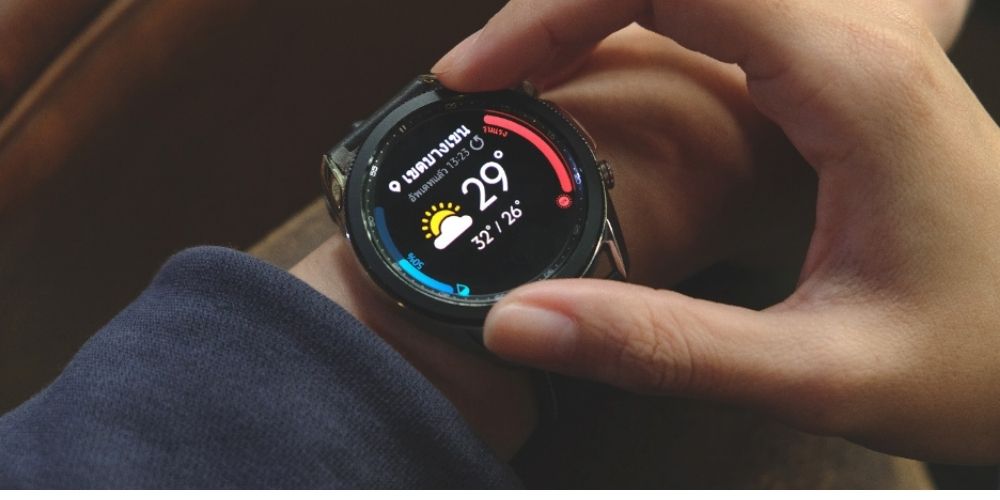 Smart watches have quickly become everyone's favourite piece of technology. Whether you are at work, running errands, or working out at the gym, you would always have your smart watch on. Thanks to pocket-friendly smart watch prices, these devices have slithered their way into our lives and found a place in our daily routines. 
When smart watches were first introduced, they sparked unavoidable debates about why someone would need a smart watch to check the time and calendar instead of a smartphone. Eventually, the category became a lot more functional, gaining more smart features such as the ability to make or receive calls, built-in voice assistants, social media notifications, and so on. Gradually, the smart watches evolved into fitness devices with their advanced capabilities to assist you in keeping track of your health.
Now whether you look at bougie smart watches or smart watches priced a little more sensibly, you get some brilliant features like built-in GPS trackers, a complete health suite (thanks to the several monitoring sensors), customizable themes, and watch straps. And although they are still evolving, a smart watch priced at a pocket-friendly rate can offer all the best features of a high-end smart watch. To help you make a better decision, we have compiled a list of our favourite smart watches priced sensibly.
Charming Pink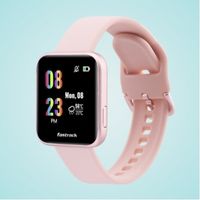 What makes this device special is not just its budget-friendly smart watch price. This pretty little pink smart watch packs a punch when it comes to features. Packed with amazing features like ultra-VU display, multiple watch faces, and a complete health suite that includes 24×7 heart rate monitoring, sleep tracking, stress tracking, etc., this smart watch has rightfully earned its place on the top of our list.
For the Love of Black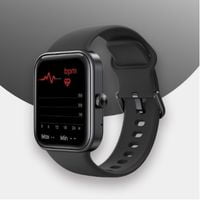 Looking bougie on a budget is an art that most of Gen Z have mastered. And if that is something that you either aspire or like to do, we have got the perfect smart watch priced at a sensible rate. With a look that would put most high-end smart watches to shame, this black beauty comes with 10+ sports modes to track your activity, a 1.69" large display, 100+ stylish watch faces to match your moods throughout the day, round-the-clock heart rate monitoring, and 5 ATM water resistance in case you might want to enjoy your day by the pool.
More Black is Less Black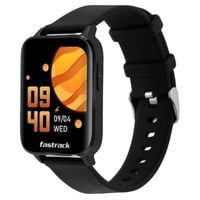 Well, you can clearly see that we love black smart watches. But what can we say? There is something very attractive about black timepieces that makes them so irresistible. If you agree with us, we already know that you are going to love this smart watch in black. This smart watch lets you monitor your heart rate, track your activity, and monitor your sleep. Not only that, but it also has so many more features that will win your heart. This smart watch will make sure that you never miss a notification and stay on the move with its sedentary reminders. So, upgrade your lifestyle with a smart watch priced just right!
Dashing Blue for the Dapper Dans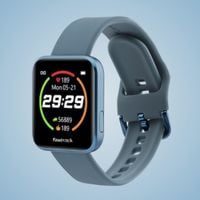 Dark shades of blue, especially in terms of timepieces have become so basic. That is why we want to include this unique grey-hued blue smart watch on your list of budget-friendly smart watches. Like our other recommendations, this one comes with a host of features as well. You get an ultra-VU display with multiple watch faces, a complete health suite, and a battery that lasts for days, all at an affordable price!
While we get that most smart watches are a long-term investment, why go out of your budget when you can get all the features of a pricey watch in a smart watch priced at a pocket-friendly rate? With a range of pocket-friendly options now available in the market, you do not even need to compromise on the quality or brand name. There is something out there for every budget now!