Time & Attendance Management Solutions Help Prevent Employee Burnout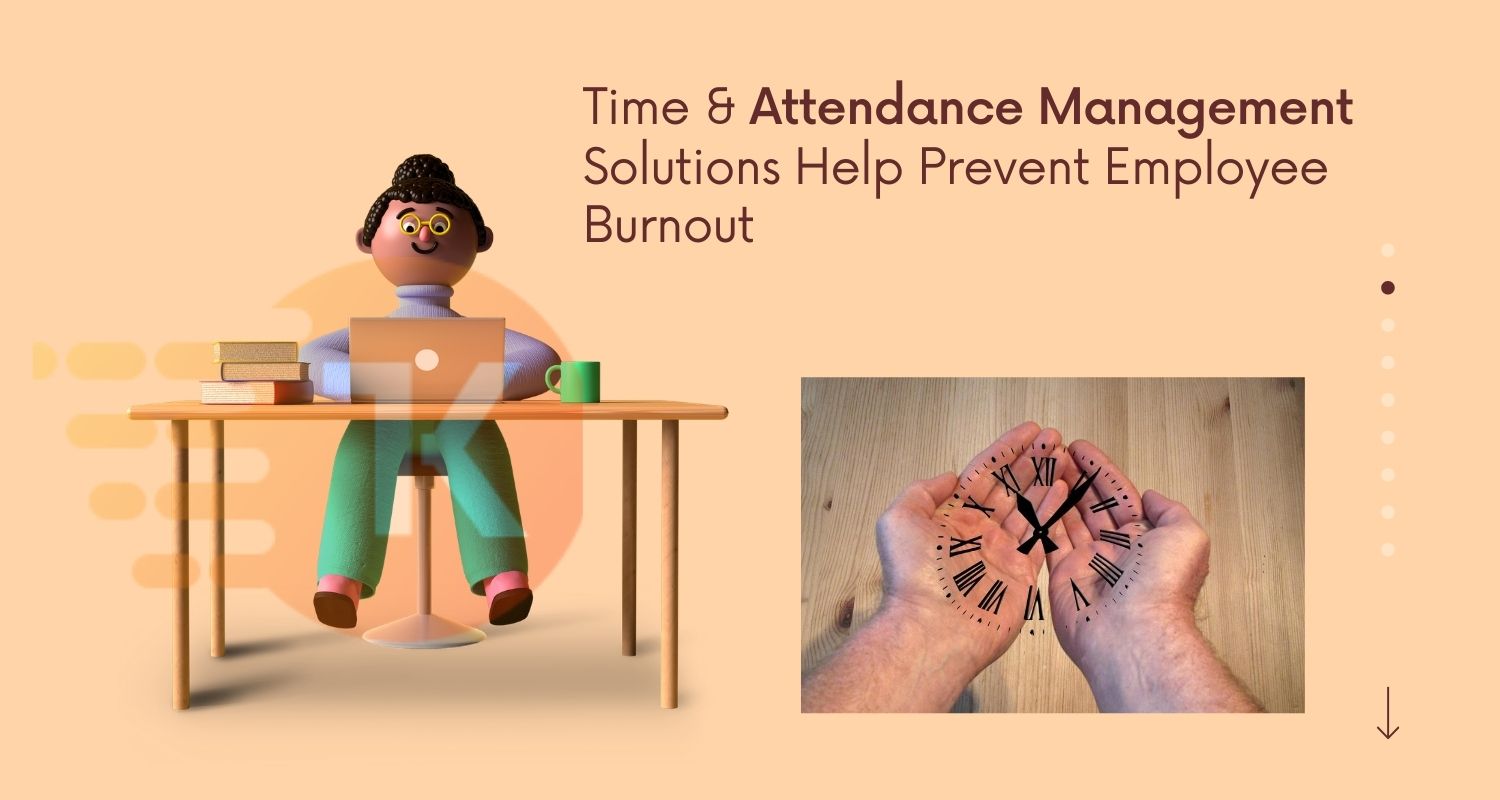 Businesses strive to achieve a high level of productivity in the workplace. But, obsessing over productivity to the extent you begin to neglect employees' well-being can become a larger mistake and could result in employee burnouts. Employee burnout is the culmination of working until exhaustion which can be further impacted by a lack of support. Burning out has toxic consequences like decreased workforce effort, limited productivity, and chronic exhaustion which can impact health at work as well as at home.
A study of more than 1,000 US workers found that highly engaged top talents are at higher risk of burning out and stated they experience limited work-life balances. The study also revealed that many companies are also at a higher risk of losing their most hard-working employees due to stress and burnouts.
The Cost of an Employee Burnout for the Business
Employee burnouts can negatively impact the overall productivity and profitability of your organization by allowing this type of dysfunctional to go on unchecked. When employees take more leaves or resign, businesses will not have sufficient manpower to carry out business operations effectively. This can ironically impact the bottom line and diminish productivity in the long run.
Research conducted by three separate universities located in Quebec, Canada found that workers who are unproductive during the day at work can cost companies around $6.3 billion a year. The study also revealed employees tend to experience stress and emotional exhaustion at least once a week.
Employee burnouts are not always as simple as someone needing a break, they can also have a major impact on other employees, business productivity, and customers. For instance, when employees are unhappy with their job circumstances, they can convey those feelings to colleagues and possible to customers, which may spread negativity within your organization. Customers will be repelled by poor services provided by frustrated employees.
Also Read:  8 Ways To Transform Field Service Management For Customer Service
Why Find Ways to Combat Employee Burnouts
Employers are partly responsible for creating a stressful work environment – customer dealings, long working hours, and tough deadlines, where employees tend to experience high levels of workplace pressure.
Industry experts revealed that organizations were usually to blame for employee burnouts with the culprits including weak time management, excessive collaboration, and overloading the strong performers. Although employees burning out is becoming more widespread, many businesses are not finding ways to combat it quickly.
Businesses must recognize the signs of employee burnouts to prevent them from happening with better time and attendance management solutions. The most common signs of burnout include irritable behaviors of colleagues, growing conflicts between employees and their team members, increases in tardiness, low-quality workmanship, ongoing issues with projects, and a lack of loyalty from employees.
Time and Attendance Software Reduces Employee Burnouts
Employees burning out is a major issue for many organizations which impacts the bottom line. Creating a fair time-off schedule allows your employees to manage their work timings more efficiently and easily schedule time-offs, like vacations, which does eventually reduce stress. It begins with an employee time management system that helps track workforce time-off leaves and help to ensure all employees' well-being. Here we have discussed a few guidelines for creating a work schedule that focuses on employee well-being and healthy work-life balance while ensuring increased productivity while at work.
Create a Generous PTO Policy for Employees
Traditionally, employees are encouraged to work many hours, sacrificing their personal time, and even in some cases forced to work when sick. Businesses usually have little emphasis on paid-time-off (PTO) policies that can impact employees' performance and burnout levels. Over time and other values around time leaves have drastically changed as new groups of employees put their personal work-life balance as a priority. Allowing employees to set their own schedules and plan our day according to those, pushes them to work more productively while in the office. So, revamping your time-off policies to be more generous and appealing to those new millennial-aged employees will help you retain your workforce.
Streamline Employee Shift Scheduling and PTO Processes
While calculating payroll for all employees, employers are required to separate out time-off by categories like vacation, sick, and personal time manually into the system, which takes more time and is prone to data entry errors. Therefore, PTO should be handled as a singular line item within the payroll software, making it easier for employees to track their earnings easily. An efficient attendance management system tracks PTO by each category or as general PTO management, helping you streamline processes.
Employees can Schedule their own Flexible Work Schedules
Modern time and attendance management solutions provide employees with a self-service dashboard which allows them to check their scheduled working hours or shifts. A few advanced solutions will also allow them to notify their concerns about their availability and schedule changes to managers directly. Employees can track their earned time-off and easily apply for time-off as needed. Being a cloud-based solution employee can access their dashboard and perform all necessary actions and tasks from anywhere, any time.
Time-off Benefits to the Best Performing Employees
Create a solid policy that provides time-off benefits to your best-performing employees and will help boosts other employees' performances. For instance, if an employee is performing well, reward them with additional time-off each year. This encourages employees to constantly strive to deliver even better results than their peers. An attendance management software like SutiTAT allows managers to track employees' working hours and allows them to quickly allocate special time-off benefits to specific employees or groups of employees whenever needed.
Provide Flexible Time-off Policies
Allow your employees to schedule their own working hours and time-offs by providing various options for time-offs, such as time-off benefits for both part-time and full-time employees and flexible working hours. Custom time-off software solutions enable you to create messages around paid-time-off policies and let the employees know when things have been updated by management.
Spot the Signs for Employee Burnout
It seems impossible to eliminate a problem without knowing where the problem arises. There will be a set of motivators that influence employees to burnout. As a manager, you should identify the motivators of burnout for each employee and recognize the signs of burnout to prevent those. Signs of burnouts can include but are not limited to frustration, lack of motivation, cynicism, impatience, and others. This can lead to a state of physical or emotional exhaustion combined with a lack of confidence and personal value in the workplace. With an advanced HR software which comes equipped with a robust time-off management features within the module which will help you track your employees' daily attendance and sick days to find any worrisome patterns. It will also help you prevent any future employee burnout cases.
Focus on scheduling
Effective shift scheduling does not mean you need to use the antiquated 9AM to 5PM work schedule. Effective employee shift scheduling is a better practice to prevent employee burnouts from occurring. With the right HR software, you can track employees' attendance with ease. You will also get a detailed analysis of those employees who are working too many hours without taking the proper time-off or vacation time, and those who frequently miss work.
Recognize Your Top Performers
The best way to increase employee engagement is by providing more individual positive recognition. Businesses should keep track of who the top-performing employees are and frequently provide them with comprehensive feedback. This will help your employees discover their true impact on your organization and further encourage them to achieve theirs and the company's goals.
Do not Overload Employees
Businesses often tend to overload employees to speed up work processes and increase productivity. This only increases the stress inflicted on employees and can lead them to burn out quickly. If your employee's burnout, their overall performance will begin to suffer and decrease over time, they may even choose to leave your company for one who will better support their efforts. As a manager, you should spread duties out evenly and unload the responsibilities of several employees in order to reduce burnout possibilities.
Build a Strong Workplace Experience
Every company strives to deliver a supportive employee experience by providing a healthy workplace atmosphere. Your business is no different. It may be strong in providing training for employee well-being but needs to improve in its flexible working options. Pushing employees too hard to achieve unrealistic productivity goals can be disastrous for an employees' well-being. Burnouts can negatively impact the individual's future career and personal health, as well as possibly being detrimental to the company's bottom line. Businesses should focus on supporting employees who are at higher risk of burning out and arming them with the tools they need to relieve the stress inflicted by the position they hold within the organization.
Preventing employees from burning out can seem overwhelming without solid and helpful tools in place. Experts say employees' well-being should be the first step in any productivity-boosting strategy. This can be accomplished by establishing realistic goals, frequently monitoring employees' performance, and organizing proper training sessions. With the right HR software solution, you can invest most of your time wisely on your employees and help the business grow.