What Is 1and1 Webmail? Complete Guide 2022
What Is 1and1 Webmail?
1and1 or 1&1 Ionos is a Germany-based company that provides hosting to customers. This company has millions of customers all over the world. Mainly its services focus on Germany, the United States, the United Kingdom, Spain, and various countries.
It provides Web hosting and 1and1 webmail service, domain name registration, SSL Certificates, webmail builder suites, Etc. Its services are available for both individuals as well as organizations.
Let us know; 1&1 Webmail is a top-rated email service. It permits you to access your email from any computer or device using a Web browser and Internet connectivity. Moreover, Webmail users can quickly receive and send emails using any web browser.
In this article, you will explain the complete guide about creating an account in 1and1 Webmail, the process of a login account, and how to recover the password if you forget. You can get complete information by using this guide.
1and1 Webmail Features
These are some features that every user can access in the 1&1 webmail services. We will mention the following points.
Users can access emails from anywhere and on any device.
Communication is effortless due to its simple interface.
Available for both individuals and organization levels.
Users can easily send or receive messages with a standard internet connection.
In the above portion, we have discussed the features of the 1and1 Webmail. That is pretty much interesting. Their value is remarkable. Now, let us know about creating a new account at 1and 1 webmail in the upcoming section.
[Read more: How to Fix Valorant Not Launching Error on PC?]
How to Create a 1and1 Webmail Account?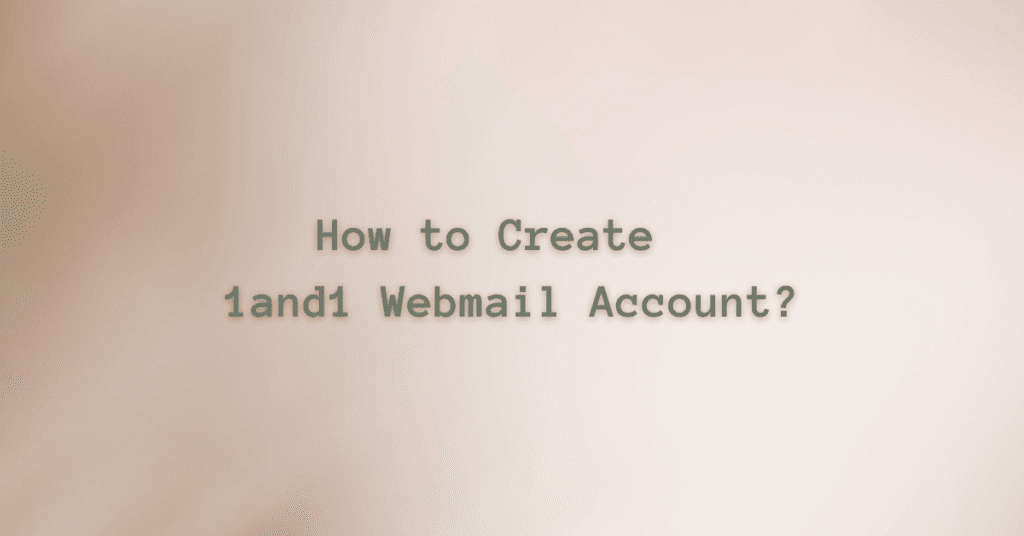 If you want to create a successful account in the 1and1 Webmail, then you must follow all instructions in the same sequence. Let us start the process with the below-mentioned instructions.
Firstly, you must visit their official website at ionos.com.
Then, you directly navigate to the home page and hit the Email & Office tab.
Here, choose the professional email address from the drop-down menu.
After that, you can see the two Basic Packages and one Business Package.
Here, you need to choose at least one package per your requirements and then click on the Continue button.
Now, type your domain and check name availability. If that name is available, click on the Add to Cart option.
Here, fill the all details in the all input fields like email address and at all.
Now, create a strong password by entering the password field and re-enter the password field.
If your account is successfully created, you can automatically forward your email to an email address.
Now, you can see two security settings options available for you. Frist is Anti-spam, and the second is premium Virus Protection.
Finally, tap on the Save button and create your 1&1 webmail account.
In this section, you learned about the process of creating an account of 1and1 Webmail. If you successfully create an account, you need to log in to 1and1 Webmail. On the other hand, if your account is not created successfully, you can follow the instruction again but carefully. In the upcoming segment, we will explain the way of login in 1and1 Webmail.
[Read more: How to Fix the "Windows can't communicate with the device or resource" Error?]
How to Log in to 1and1 Webmail Account?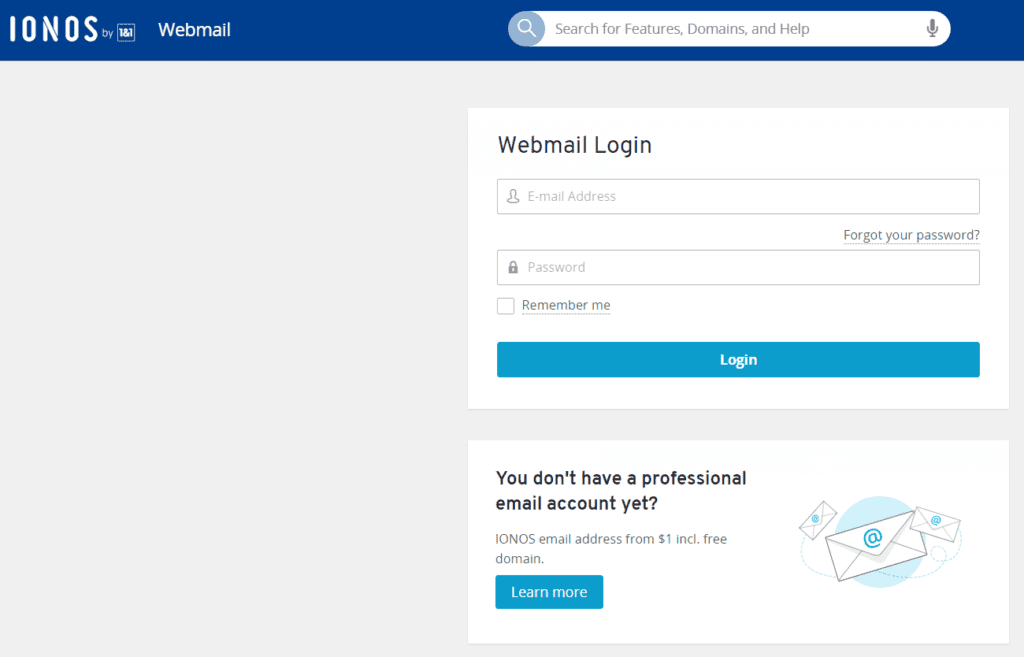 In order to log in 1and1 email account, you must follow the steps that we will be going to the discussion in the upcoming points.
Firstly, launch any web browser like Chrome or firefox. I choose chrome browser for these steps.
Then, go to the official website with this link https://www.ionos.com/
Now, open the homepage and see the sign-in button on the top left screen.
Here, you need to click on the sign-in button.
A new screen will open, and you redirect to the 1&1 IONOS login page.
However, these login forms are not usable for you to log in.
Here, scroll down the page and tap on the Webmail button available under the More 1&1 IONOS Logins.
Now, you redirected to the login page is https://mail.ionos.com/
Now, fill in your correct username/e-mail address, and password in the login form.
Now, you can save your password the next time you log in to check on the Remember Me option.
Finally, tap on the login button, And you can see your 1and1 Webmail successfully opened.
You can quickly log in to your 1and1 Webmail to follow the above steps within minutes. Sometimes, the user forgets their password due to many reasons. So, there is an option to recover your password that we will discuss in the next section.
[Read more: How to Fix Fallout 4 Won't Start Error?]
How to Reset Your Password of 1and1 Webmail Account?
If you forget your 1&1 webmail password, then do not worry. We will recommend a straightforward process to recover passwords within a few steps. These are some simple instructions to reset your password.
Firstly, go to the 1and1 login page.
Then, navigate on the Forgot your Password link.
You need to fill in just your Customer ID or domain name here.
After that, tap on the click on Request New Password. Now, you can check your email to get a link to reset your 1and1 email password.
Now, hit on the link and create a new password.
Next, type a new password click on Reset Password.
In the above portion, we have discussed the simple process to recover the password. If you implement all the steps in the same direction, then you will get the best outcome from this process.
Webmail clients from 1and1
There are numerous applications available that allow you to connect to the 1&1 webmail server and use the features listed below to send and retrieve emails.
Office Outlook
Firefox Thunderbird
Gmail's Inbox
iCloud Mail
Client eM
Mailbirld
Spike
Microsoft Live Mail
Spark
Business Webmail from 1and1
You can use 1and1 Webmail for commercial purposes because it allows you to reframe and Restructure your company requirements, and you may even create unique email addresses for each employee. It is therefore much simpler to maintain email records and to periodically assess their reliability and memory consumption.
You have permission to add, update, delete, and reset one email password if you use this webmail service.
Admin 1and1 Webmail
Admin will be given precedence when opening webmail in Ionos because they have the ability to log in and add and delete user permissions. The admin email essentially belongs to the organization's leader, who can add or delete the necessary emails as needed.
You cannot access unauthorized items inside your account without genuine permission because the admin has all the privileges.
Conclusion
We have explained many things from this article about 1and1 Webmail. It is the most secured and reliable Web hosting company that provides webmail services to users. Also, you can learn from this article about creating and logging in in the 1and1 Webmail. However, some people do not have great memories of remembering things for a longer time. You can also learn the simple method to reset the password. Additionally, you can take benefits of this web hosting, mail service, and many other services.
FAQ'S
1. I can't find the 1And1 mail login page, where is it?
The official URL for the Ionos webmail login page is www.ionos.com, after which you must select the sign-in option on the right. The next step is to enter your 1And1 login information.
2. How do I add 1and1 webmail to my whitelist?
The answer is that you must go to the blacklist part of the mail before you can access the whitelist option there.
3. What services can I access with the 1&1 Webmail Login on IONOS?
Services like My Agency MyDefender, SSL Office, and Partner Hosting Cloud are available to you. The services offered by IONOS include certificates, marketing, stores and security domains, accounts, protection HiDrive, programs, web data email servers, online infrastructure, etc.