How to Fix Fallout 4 Won't Start Error? | 12 Troubleshooting Solutions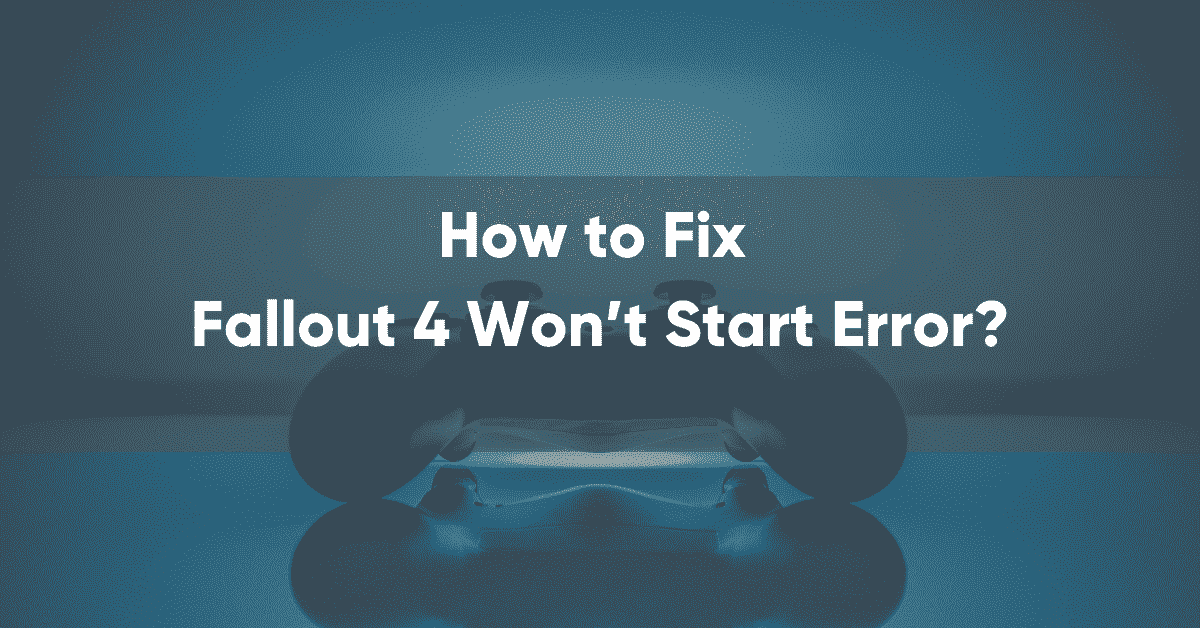 Fallout 4 is one of the most popular video games in the Fallout series. Since its release in 2015, this game has been very successful. That's why many people prefer this one compared to other parts of this series.
However, the users have faced some problems while playing Fallout 4. In this case, the 'Fallout 4 won't start error is a popular one. Well, the good thing is you can solve it in a few minutes. If you faced the same issue with this Fallout game, we can help you out.
In this article, we are sharing the best solutions to solve this "Fallout 4 won't start" error. You can implement any of these methods for Fallout 4.
What is Fallout 4?
As we noted above, Fallout 4 is one of the most popular games right now. This action role-playing game was developed by Bethesda Game Studios in 2015. Well, Fallout 4 is available on Xbox One, PlayStation 4, and MS Windows. The interesting story and gameplay attract most gamers to play Fallout 4.
[Read more: How to Fix Windows 10 Taskbar Not Hiding in Full Screen?]
Fallout 4 Minimum Requirements
Before you know about the top methods to fix issues, you have to know about the requirements of Fallout 4. That's why we are sharing the minimum requirements of playing this game in the following:
| | |
| --- | --- |
| Processor | i5-2300 2.8 GHz for Intel users, Phenom II X4 945 3.0 GHz for MD users |
| Storage | At least 30 GB |
| Memory | Minimum 8 GB RAM |
| Graphics | GTX 550 Ti 2GB is ideal for playing this game |
| OS | Minimum Windows 7 |
Why Does the "Fallout 4 Won't Start" Error Occur?
There are various reasons behind this error. If you want to fix it, you have to identify the reason first. In most cases, it happens when your computer is facing some temporary errors. Well, Fallout 4 can also have some issues. On the other hand, you can see this problem when your PC has corrupt game files or third-party apps.
Ways to Fix Fallout 4 Won't Start Error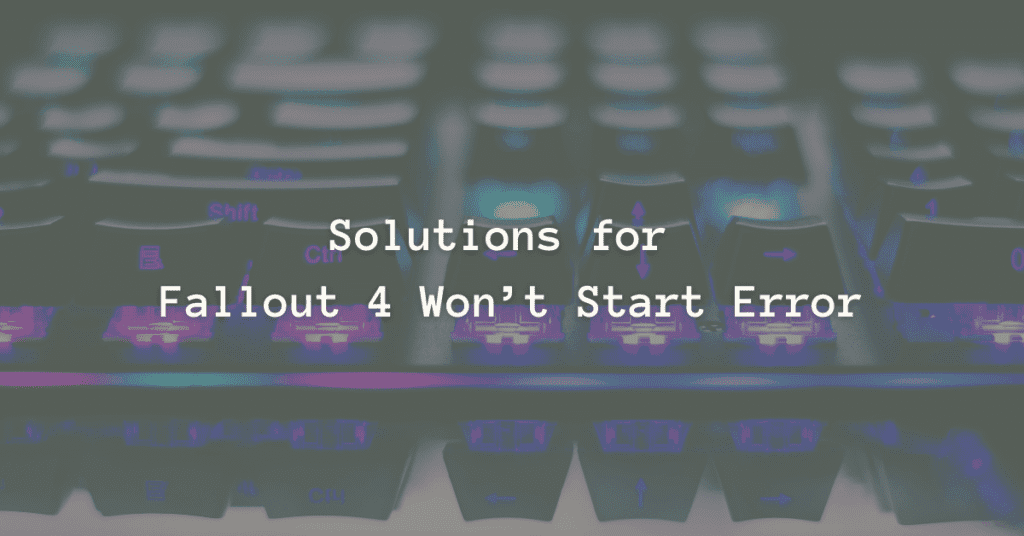 Now, you know why you are facing the 'Fallout 4 won't start error. If you have identified the reason, it will be easier to solve the issue. In the following, we are sharing the top nine solutions for fixing this error. So, let's find out:
Solution 1: Restart your game
The easiest way to solve this problem is by restarting your game. To restart Fallout 4, you have to follow these steps:
First exit your game
Next, press Ctrl + Shift + Esc keys together to open Task Manager
You have to close all Fallout 4 processes. Right-click on those processes and select 'End Task'
Lastly, select the 'End Process' option and then restart the game
[Read more: How to Fix Pandora Session Timed Out Error?]
Solution 2: Run your game in windowed mode
If the previous method is not working, you have to try another one. In this case, you can run Fallout 4 in your windowed mode:
First, you have to open the Fallout 4 launcher
Select 'Options'
Locate the 'Windowed Mode' and 'Broderless' options, and check them
Then, click the 'Ok' button
Next, you have to run the game to see if the problem is solved
Solution 3: Run your game in compatibility mode
In some cases, you can have compatibility issues with the Fallout 4 game. To fix this problem, you can run the game in compatibility mode:
You can right-click on the executable (.exe) and select Properties
Locate the 'Compatibility' tab and check the 'Run this program in compatibility mode' option
Then, click the OK button
When it's done, you can run Fallout 4 game to check the error
Solution 4: Update your device drivers
Updating device drivers is a common method to fix this "Fallout 4 won't start" issue. Well, you can update drivers manually. On the other hand, if you don't have enough time or knowledge regarding this topic, you can get help from Drive Easy. Just download and install Drive Easy on your PC and start scanning. It will update all drivers automatically.
[Read more: Is LDPlayer Safe and Free to Use?]
Solution 5: Temporarily disable your antivirus software
Sometimes your antivirus software can create issues when you are trying to open Fallout 4. If this is the reason why you can't start the game, you have to take some simple steps. The best way to solve this problem is temporarily to disable the antivirus software. Hence, you can also contact the vendor of your antivirus software.
Solution 6: Verify integrity of game files
As we noted above, Fallout 4 won't open if there's a corrupt file. The good thing is you can solve this error by verifying the integrity of game files:
First, open Steam and locate the Library section
Locate the Fallout 4 option and right-click to select Properties
Find 'Local Files' and select
Then, select the 'Verify Integrity of Game Files' option
[Read more: How to Fix Screen Tearing Problem in Windows 10?]
Solution 7: Update your graphics card driver
You see, the Fallout 4 game has so many requirements. So, it can create issues if your graphic card driver is not updated. In this case, you have to update it as soon as possible:
First, press Win + X together and click on 'Device Manager'
Right-click on Display adapters and select the Update driver option
Next, you have to select the 'Search automatically for drivers' option
Follow the instructions to update your graphics card driver
Solution 8: Remove mods
Another great way to fix the "Fallout 4 won't start" error is removing mods. Well, excessive modding can create several issues. Moreover, it can also change your game function. You can disable all mods and enable them one by one to fix this error. When you find a faulty mod that is disturbing Fallout 4, delete it from your device.
Solution 9: Repair the Visual C++ Redistributable
Last but not least, you can also fix this error by repairing the Visual C++ redistributable. To implement this process for Fallout 4, follow these steps:
First, open Steam and go to the Library section
Right-click on Fallout 4 to select Properties
Then, locate the Local files tab and select
Next, select 'Browse Local Files' to open 'CommonRedist'
Lastly, double-click on 'vc_redist.x64' and select the Repair option
Solution 10: Reinstall The Game
This issue can occur if the game program is not properly installed on your PC. To resolve this issue, you will need to reinstall Fallout 4 by following these steps:
Open the Steam client and click Library.
Right-click Fallout 4 and select Uninstall.
After the uninstall process is complete, press Ctrl+Shift+Esc to open Task Manager.
On the Details tab, right-click on the Steam-related process and select End Process Tree.
Restart Steam, download Fallout, and reinstall it on your computer.
Once installed, launch the game and see if the problem goes away.
Solution 11: Change Fallout4Prefs.ini file
Press Win + E on your keyboard to open File Explorer and navigate to the Fallout 4 folder using the index path below.
Now right-click on the "Fallout4Prefs.ini" file and open it in Notepad.
Find the following variables in the file and set their values as shown in the index below.
Note: Make sure iSize H and iSize W match the current resolution of your monitor.
Then save your changes and restart your computer to see if the issue that Fallout 4 doesn't start has been resolved.
Solution 12: Other Troubleshooting Suggestions
If all of the above methods still don't solve the problem that Fallout 4 doesn't start on your PC, follow the tips below.
Run the game as an administrator
Run games compatible with Windows 7
Update graphics driver
Update Steam and games
Hope this article helps you solve the Fallout 4 launch issue. Games can sometimes cause problems, but at least it's playable. We welcome your feedback from players.