5 Use Cases of eSignature Software in Government Organizations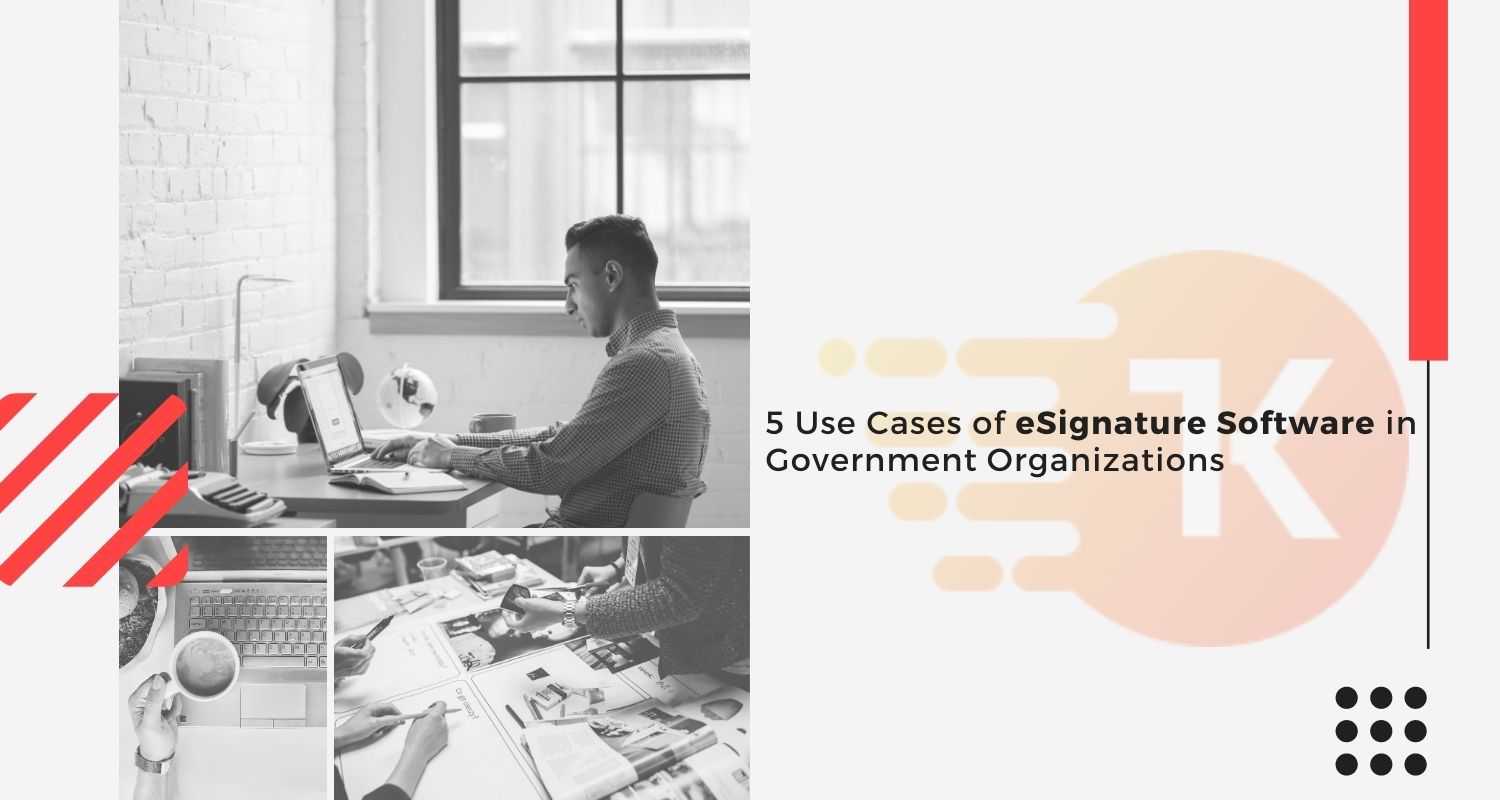 Electronic signature Software in Govt Organizations
Everyone needs and appreciates transparency in business processes. Decoding the fine print and getting complete disclosure into the process is a hard thing to come by. Especially, most people expect transparency in government processes, and the legislature also passed and enacted many laws to ensure transparency in such a process. Due to this, most government agencies have been adopting websites and digital portals to move their operations online to provide services and information to people electronically.
From business information to financial data, the laws and regulations govern a wide array of disclosure at all levels of the government. The government entitles log data at multiple steps in their workflows to ensure transparency is maintained across all business processes. In almost every aspect of the operations, contracts must be created, signed, and archived to ensure suitability and accountability in the decision-making process. The eSignature solutions have been proven to be effective and efficient in a range of signing processes to make this electronic chain possible.
Here we discuss a few use cases of eSignature software in government bodies.
Government Businesses
Often, government agencies are required to send loads of documents and records across various departments and agencies to get approvals. This process consumes more time and can add up paper costs. Fortunately, with robust eSignature software, both the local and federal governments can authorize paperwork for procurement, tender agreements, and other processes. For instance, various forms of documents can be easily converted to digital format, making it more economical.
Citizen-Centric Business Process
The local and federal governments around the world are delivering services to their citizens for their general interest. These services include simple functions such as publishing official information and complicated services such as issuing civil act certificates (birth, marriage, and death), passports, permissions for commercial activities, etc. Most government agencies propose citizen business applications be made during official working hours. Sometimes, it can be difficult for people to visit a government office during busy working hours. Thanks to advanced technology, the government bodies can quickly complete these citizen business processes by adopting electronic signatures.
Also Read: Ecommerce Industry Due To Covid-19
Housing
People expect the state and local government to swiftly handle housing transactions like it is with the real estate firms. Sometimes, the government bodies spend more time signing and mailing documents manually, even for a simple housing transaction like an address change. With the help of eSignature solutions, the modern-day government agencies can securely sign and send sensitive documents, including housing forms and homeowner exemption forms, etc.
Health and Social Services
The local municipalities and state governments must manage and track heaps of paperwork to provide health and other wellness-related services to their citizens. The electronic signature enables government health agencies to execute health forms and other social documents electronically, helping them to become more efficient and economical with their resources.
In-house Government Operations
Government agencies include various departments such as human resources, procurement, finance, etc. Every department working in the organization needs to streamline the processes and work effectively to offer better services to the citizens. The eSignature software solutions transform the federal government landscape with easy-to-implement processes to sign various forms, including HR forms, employees' recruiting and onboarding forms, expense claim forms, and project management forms.
Benefits of eSignature Software Solution
The government agencies can set up electronic signature on-premise or on the cloud. So, there will be a high degree of customizability, functionality, and scalability to realize full control across the organization, without worrying about limited IT resources.
With the software, government bodies can free up their resources from tedious and time-consuming tasks allowing them to offer better services to the public.
The software solution eliminates time-consuming tasks like scanning, printing, and faxing.
Conclusion
Government agencies are usually challenged to offer quality services to the public while reducing costs and maintaining compliance across the processes. Plus, they are expected to ensure all their operations are environmentally friendly. Most government agencies have recognized eSignatures as a secure and economical way to achieve digital transformation.
The eSignature solution like SutiSign help government agencies address the unique challenges associated with paper-work and wet-ink signatures and minimize the overhead costs. With various authentication protocols and security applications, eSignatures provide superior security to the confidential documents of the local and federal governments. Notably, the need to quickly deliver efficient services to the public makes it the right time for government organizations to embrace eSignature software solutions.