file:///sdcard/, or how to view and open your files in the browser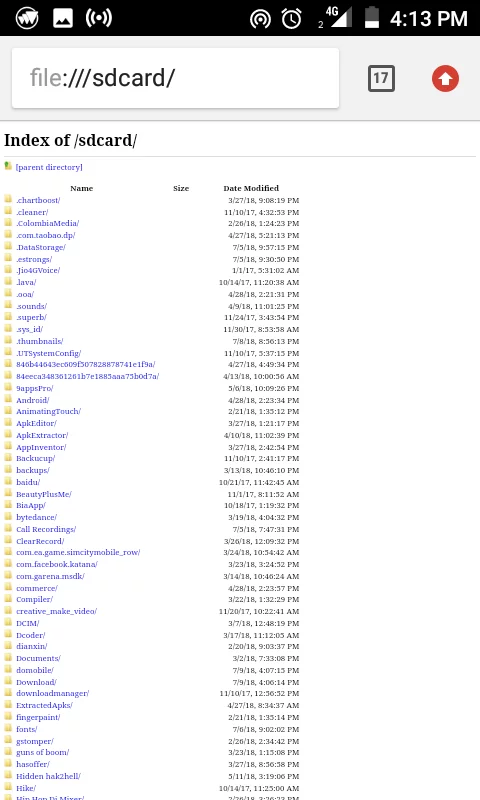 file: ///sdcard/ To view and open files from storage on your device you should typically use a file manager, like many that exist in the Play Store. file ///sdcard, If your phone doesn't have one or you don't have access to it, you can also make use of the web browser. Simply enter the URL file:///sdcard/ in the address bar of Google Chrome, Firefox or Samsung Internet.
This isn't really a trick. It's just a type of URL, as old and standard as the "http://", and that's why several browsers understand it. The difference is that the "http", used to recover resources on the Internet is replaced by the "file" scheme, which is used to retrieve a resource on the computer or on a local network, in addition to three slash "/" after the colon.
With this URL you will be able to see all the files and folders that are in the internal memory of your device, including hidden files (whose name starts with a period). You can also open or view most of those files in the same browser, be they photos, videos, documents or PDFs. You can even install APK files from there.
You can directly enter paths to specific folders. For example, when you put file:///sdcard/whatsapp/ you will enter the folder where WhatsApp saves its contents. In «Media» you will find images, voice notes, videos, etc.
Tap where it says "Size" to quickly find out which files are the largest in storage. If you tap on "Change Date" they will be sorted according to this parameter.
Since this URL is a standard, it also works on the PC, albeit with slightly different syntax. For example, to view the files on hard drive C, type in Chrome or Mozilla Firefox on your computer. Unfortunately this does NOT work on iPhone or iOS, which is where a file manager is most missed.file:///C:///
Another limitation is that you will only be able to see the files on the internal storage. You can't list the files on the SD card or worse even worse the files at the root of the device (root), because apparently this requires special permissions that a browser does not own. You also won't be able to manage the files, i.e. delete, copy or move. If that's your need you can install Xiaomi File Manager, Google Files or Solid Explorer.
How to Access and View Files on the file:///sdcard/ Directory of an Android Device
Have you ever attempted to access files stored on your SD card and found that they are not readily accessible? The issue lies in the fact that while your computer can read them, it doesn't automatically recognize them. In this post, we'll explore how to view files in the internal storage of your Android device using the file:///sdcard/ path.
The file:///sdcard/ path serves as a tool, allowing users to conveniently view files in the internal storage of their Android device through a browser.
Most smartphones come equipped with apps that facilitate access to files through the MicroSD card slot, such as contacts, photos, music, and movies. However, these apps typically don't appear in the settings menu, making it challenging to view the files within the SD card.
To address this challenge, it's crucial to understand how to view files on file:///sdCard/. Once you learn how to open files on file:///SDCard/, you can effortlessly access your data without worrying about missing files or folders.
If you don't find such an app in your app drawer, you can use the Google Documents app. Available on the Google Play Store, this app allows you to view all the files on your device. Here's how you can use it to view files on your SD card.
If you need to open these files without requiring administrator privileges, you can download a file manager from the Google Play Store or through an APK.
What does "file:///sdcard/" mean?
The file path file sdcard provides access to all the data and files on your Android device. An SD card serves as a removable storage card designed for holding data and information. Due to its convenience and user-friendly nature, SD cards have become a prevalent choice for data storage. They operate on the straightforward principle of reading and writing data, regardless of the quantity stored on your mobile, PC, or electronic device.
In recent times, the storage capacity of SD cards has significantly expanded, owing to widespread usage. While we were once constrained to just a few gigabytes of storage, now SD cards are available with up to 2 terabytes of space! This remarkable advancement is certainly worth delving into further.
How does an SD card operate?
The SD card is a crucial component in various electronic devices for storing data. There are different types and sizes of data storage devices, with an SD card being easily connectable to a PC or laptop through a card reader. However, it should be correctly inserted into the appropriate slot to be usable on devices such as Android devices or others. A pre-installed file manager simplifies the process of viewing all content stored on your device, whether it's in the internal or external storage.
For accessing content on an SD card, you can install an external file manager app from the Google Play store. The Files App, available on the Android store, provides a straightforward method to view files stored on your SD card. Simply download and install the app for immediate access.
Access SD Card Files on Android with a Single Click
In this discussion, we'll explore how to effortlessly view SD card files on Android with a single click. If you find it challenging to locate your SD card files on your Android phone, you can opt for specialized Android data management tools to access the content. As of 2023, a notable choice is DroidKit – a Comprehensive Android solution. A standout feature of this tool is its newly introduced functionality, the Data Manager, enabling you to effortlessly access SD card files on your Android device with just one click. This software not only simplifies the process of viewing and reading SD card content on your Android phone but also offers a range of other impressive capabilities.
Easily locate, access, and organize all your files stored on the SD card of your Android device with user-friendly features, making file management a breeze.

Effortlessly edit and delete files on both your SD card and Android phone.

No need to panic if your SD card is accidentally formatted! Restore all deleted files to their original state using advanced data retrieval technology.

Import and export various types of data, including photos, videos, contacts, messages, and other files, between your Android phone or tablet and your PC or Mac computer.

Unlock the full potential of your Android device with DroidKit – the latest and most advanced tool for locating and viewing SD card files. Best of all, it's completely free! Follow our simple instructions below to effortlessly access your files with just one click.
Step 1. Select the Data Manager
To begin, launch DroidKit and choose the Data Manager mode.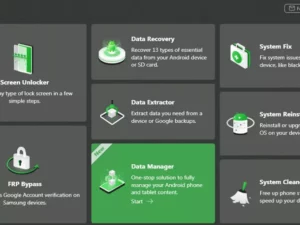 Step 2. Click on the Files option.
To link your Android phone to the computer, adhere to the on-screen instructions. Afterwards, select the "Files" mode located on the right.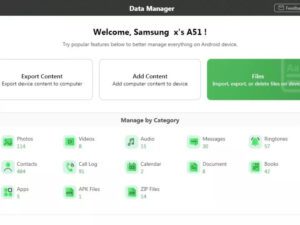 Step 3. Display SD Card Files
Effortlessly discover and organize your SD card files on your Android phone by following these simple steps: locate the folder containing the files, view them on your SD card, and then conveniently click either the "To PC" or "Add" icon to efficiently manage all the files on your Android phone.
How to Download the Files App from the Android Play Store?
Now, navigate to the Google Play Store or Android Play Store.

Click on the search bar and enter "Files App."

Next, click on the download button, then press install.

Once the installation process is complete and the app opens, launch the Files App.

Select the SD card and click on it.

You will now see all the saved files and images on your device screen.
Access SD Card Content through Chrome [Mobile Version]
A fill sdcard manager is an essential tool for mobile phones. You might be wondering, what is it and how does it work? Essentially, a file manager is an application used to view all the files, documents, and images you have stored on your device.
If some of your files are not visible in the photo gallery, there's no need to worry. We'll find a solution in just a few minutes. This application is widely popular and well-known among users. Below, we've outlined simple steps to browse files on an SD card without using a file manager.
Open the Chrome browser on your mobile device or use a different browser.

In the Chrome address bar, type 'file:///sdcard/' and press enter to open it.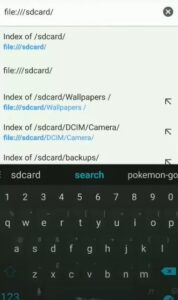 You will encounter an index of /sdcard/. Click on any directory to examine the files in detail. With a few straightforward keystrokes, you can easily access your backups, galleries, and more by typing and opening "file:///sdcard/backups," "file:///sdcard/gallery," or any other desired location. It's a convenient and efficient method to navigate through your files with ease.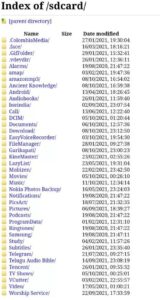 For those seeking a straightforward approach to access files such as MP3s, images, data, and more from their browser, there are several options available. We'll explore the safest and most convenient methods here.
How to Access SD Card Files on Android Without Using a USB Cable
For a reliable solution to view and transfer files from your SD card to your computer, consider using AnyDroid. This robust Android data manager offers comprehensive features to meet your needs.
AnyDroid provides a convenient way to access and manage your SD card directly from your computer. Explore the ease and versatility of our product, allowing you to effortlessly view, manipulate, and transfer files from your SD card to your Windows PC or Mac. Streamline your digital tasks with confidence, enhancing your file management experience. Some notable features include:
Import files to the SD card of your Android phone or export files from your SD card to your computer with ease.

Beyond file management, AnyDroid enables seamless file transfer from your iOS device, iTunes, or iCloud to your Android phone.

Experience high-speed file transfers – effortlessly transfer 3000 songs from your device to your computer in just 5 minutes.
Tired of only being able to view your SD card files? Look no further than AnyDroid! This remarkable solution allows you not only to view but also to manage and access your SD card files effortlessly. Whether you're using a PC or Mac, AnyDroid has got you covered.
Step 1: Begin by opening AnyDroid on your computer. Afterward, connect your Android phone to the computer using a USB cable or establish a Wi-Fi connection.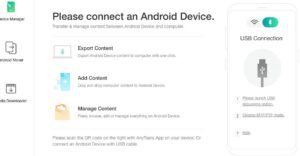 Step 2: Within the Device Manager section, click on the "Files" option to easily view all the files stored on your device. Upon reaching the next screen, you'll gain a comprehensive overview of all the files on your device and SD card. This user-friendly feature provides convenient access to all your data in one location. With a simple click of the "Send to PC" button, you can effortlessly manage and transfer your files.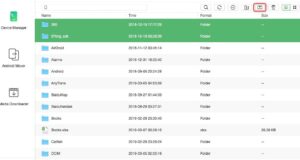 At times, the app might encounter difficulty recognizing your SD card. In such rare instances, be sure to verify that the card is correctly inserted into your device. Loose insertion of an SD card can often result in app recognition issues. Ensure a proper and secure insertion for seamless functionality.
[Read more: What Is Biodiversity Class 10? Definition, Types And Importance]
Why isn't the SD Card Appearing in the File Manager?
If you find that your file sdcard dcim is not visible on your Android device or is undetectable by the File Manager, it may be attributed to various reasons such as device incompatibility, a damaged or formatted card, or the card being overloaded with data. Identifying and addressing these factors is crucial for ensuring smooth functionality.
To Check SD Card Storage Space:
Open Files by Google on your Android device by locating and tapping on the app icon for streamlined file management.

To view the available storage space on your SD card, click on the "Clean" tab with just a few simple taps.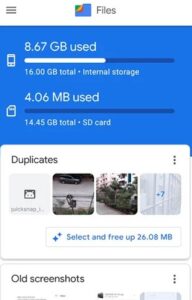 To Resolve SD Card Not Being Detected:
Navigate to your device settings and search for "Device maintenance." Click on it. If the SD card isn't visible in Settings, go to Storage.

Attempt to resolve the issue by removing and reinserting the SD card.
How to Utilize Documents to Showcase Content in the file:///sdcard/ Directory?
To access files stored in file:///SD Card, start by visiting the memory section of your device. You'll notice two sections—internal and external. Choose the SD card option.
Next, navigate to the SD Card section and select your desired folders. Folder names, such as "images" and "documentation," remain the same, allowing you to choose which folder you'd like to view.
Moreover, if you intend to transfer any files, the process can be easily accomplished.
How can I access and view SD card files in the gallery?
Gallery is an application designed to store and organize photos for easy accessibility, even offline. It enables users to find, edit, and manage photos without requiring an internet connection. Gallery also works seamlessly with file sdcard gallery on Android devices.
Using Gallery to View SD Card Files:
Access Photos:
   – Open the Gallery app on your Android device.
   – Tap on "Photos" to view all photos and videos consolidated in one location.
Finding a Gallery of a Person:
   – Turn on your Android phone and open the Gallery icon.
   – Select "Photos."
   – Choose a specific group to quickly locate photos and videos related to that group.
Moving Photos to an SD Card:
   – Click on the Gallery icon on your Android phone.
   – Press and hold a photo or video you wish to move.
   – Tap "More" in the top right corner and choose "Move to folder."
   – Select the folder on the SD card (e.g., file:///sdcard/gallery move to file:///sdcard/folder).
Displaying Hidden Files in file:///sdcard/gallery:
   – Open the Gallery menu.
   – Go to Settings and select "Show Hidden Files."
The Gallery app provides a feature to reveal hidden files in case of accidental or mysterious hiding. To activate hidden files in file:///sdcard/gallery, navigate to Storage settings and click the three dots at the bottom right.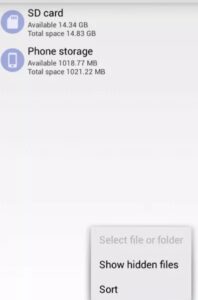 "Guide to Revealing Hidden Files in file:///sdcard/ Directory"
Understanding SD Card Hidden Files: Common Issues and Solutions
Encountering difficulties in viewing hidden type file:///sdcard/ on an SD card is a frequent challenge for many users. This frustration can stem from various reasons, each requiring a specific approach for resolution.
1. Virus Infection:
   – If your SD card is not showing hidden files, it could be infected with a virus from a device carrying malware. A thorough scan using reliable antivirus software is recommended to address this issue.
2. Accidental Data Loss:
   – Deletion or formatting mishaps can lead to hidden files becoming inaccessible. Employ data recovery tools or services to retrieve lost files, and consider regular backups to prevent such incidents.
3. Possible Malfunction:
   – Sudden removal of the SD card may result in malfunctions, hindering the visibility of hidden files. Safely eject the SD card and reinsert it to ensure proper functioning.
4. Preventing Corruption:
   – Formatting a flash drive becomes necessary to curb the spread of corruption and prevent data loss. However, exercise caution and ensure data backup before proceeding with formatting.
Addressing these issues systematically will help restore access to hidden files on your SD card and maintain the integrity of your data.
Option 1: Deselect "Hidden Items"
In Windows 10:
Step 1: Connect your SD card to your device using a card reader, and it will open in Windows Explorer.
Step 2: Once Windows Explorer is open, navigate to the "View" tab and uncheck the "Hidden" checkbox. You will now be able to see the changed settings, revealing hidden files, images, and documentation.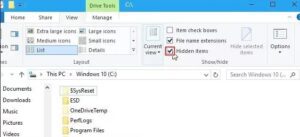 "Guide to Accessing and Viewing Files in the file:///sdcard/ Directory"
Understanding the File ///sdcard/ Key for File Management
The utilization of the file ///sd card/ key is instrumental in discerning file paths, allowing seamless access to files through the file manager. The path essentially represents the address where data is stored, with the SD card serving as the primary storage area in this scenario.
If you're keen on discovering the path of the default device storage directory, here's how you can do it:
Open the Settings app on your Android device.

Navigate to the "Storage" section, where you'll find a list of directories. Select the one you are interested in to obtain its path.
To utilize the path, access the file manager through various methods:
– Open the file manager directly from the home screen.
– Connect the SD card to the computer and access the file manager.
– Insert the SD card into the computer's USB port.
– Use the file explorer provided by the operating system.
Follow these steps:
Go to the home screen.

Tap the three dots icon (…) at the top right corner of the screen.

Choose 'Settings.'

Navigate to 'Applications.'

Tap 'Manage applications.'

Select 'File Manager.'

Tap 'Open.'

Tap 'Select an option.'

Tap 'Choose an option.'

Tap 'OK.'
By following these instructions, you can effectively explore and manage your files using the file manager and access the paths associated with different directories.
"Guide on Transferring Data from file:///SDCard/ to Your PC"
Accessing Files from an External SD Card on Your Computer
To open any file in the "C:" directory (representing the computer's hard drive) via the DOS prompt, use the following command: `/// C: /`.
SD cards, compact flash memory devices, are widely used for storing substantial amounts of data in various electronic devices such as cameras, camcorders, smartphones, tablets, and laptops.
For transferring files from an external SD card to your computer, follow these straightforward instructions:
1. Connect the SD Card to Your Computer Device:
   – Use a USB cable to connect the SD card to your computer.
   – Depending on your operating system, you may need to right-click on the SD card icon and select 'Eject' before inserting the card into your computer.
2. Copy Files to the External Storage Drive:
   – Open the folder containing the files you want to transfer.
   – Right-click on the desired file(s) and select 'Copy'.
   – Navigate back to the SD card window and paste the copied files onto the SD card.
3. Unmount the SD Card:
   – Once all files are transferred to the SD card, safely unplug the SD card from your computer.
   – Plug the SD card directly into your camera, smartphone, tablet, etc.
These steps allow for a seamless transfer of files between your external SD card and computer, facilitating data management across different devices.