How Doctors Offices Can Captivate Their Patients in the Lobby with Digital Signage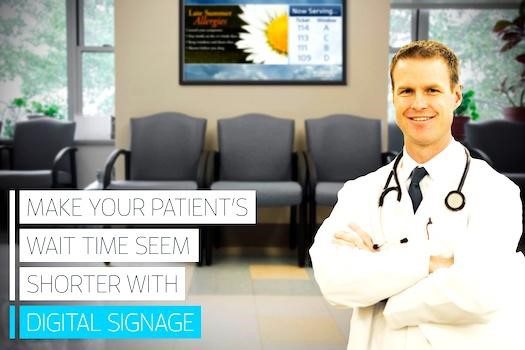 When entering your building, the lobby is often the first thing people see. Not only this, they frequently have to wait in this space for their doctor. With this in mind, it makes sense to make this space as welcoming as possible. Although there are different ways to achieve this, we believe in digital signage… and there are some key reasons for this!
Interest and Engagement
Firstly, the problem with traditional signage is that the patient only needs to look around once, and they've seen everything there is to see. With digital signage, we have something completely different. Head into a doctor's office with digital signage, and you'll see the majority of the eyes following the screen as the display changes. Not only is the signage dynamic, it's interactive, and also adaptive for whenever you need to adjust it. As well as news feeds, you can display public notices, web pages, and lots more besides. For other engaging features, you will want to reach out to a service provider like https://retailmotion.com.au/ that can provide you with a brochure that details everything from equipment to pricing.
Efficient Noticeboard
For the longest time, doctors have been relying on noticeboards to get important messages across. Whether it's about the opening hours of the office, staffing, symptoms of a health issue, or anything else, it is only effective if the people in the lobby actually read the noticeboard – something that doesn't happen too often. With digital signage, we can keep patients up to date but in a modern, engaging way (and in a way that saves time too!).
If you have a new message you need to put across to all visitors, all it takes is a couple of seconds to update through the online dashboard. You don't need to get creative on a Word document, go to the printer, or even be on-site; everything is managed through the online dashboard. With some plug-ins, you can even set content to update automatically on certain dates (you don't need to do a thing on the day itself!).
For those visiting, they don't have to read dozens of sheets of paper dotted around the room, and they may even appreciate your effort to save paper.

Modern Touch
At home, people watch TV while scrolling through their phone with a hand that bears a Fitbit or Apple Watch. If you can introduce technology to your doctor's office, you'll instantly gain their attention as a modern and tech-savvy service. The whole room gets a modern facelift, and everybody who visits will get a new perception of the service too.
Also Read: Visual Impact Productions
Improve the Customer (and Employee) Experience
There's often much confusion for visitors at a doctor's office; do they need to sign in? Do they need to approach the desk again after the appointment? Do they need to fill in a particular form? With all the pertinent information displayed through digital signage, your patients won't waste their own time or get frustrated. At the same time, the receptionists won't be answering the same questions over and over again all through the day.
With Covid-19, it is especially important to minimize the number of people in a waiting room. Digital signage can benefit doctors running their practices in malls and other locations like this. Calgary optometrists in this situation can make use of digital signage to comply with local restrictions while still making sure that patients have the best experience possible.
Tailored Content
Finally, we like the fact that it's possible to tailor what's on the screen, depending on what you need. We've mentioned public messages and important notices, but there's no reason why you also can't provide entertainment for children. If you get lots of children visiting through the day, can you put little slides in the presentation to keep them occupied? A doctor's office can be a scary place for a child, so small things you can do to make their experience better will be appreciated by not only the child but their parents (and other visitors too).