Manage Your University Mailroom Management Issues with Mailroom by PackageX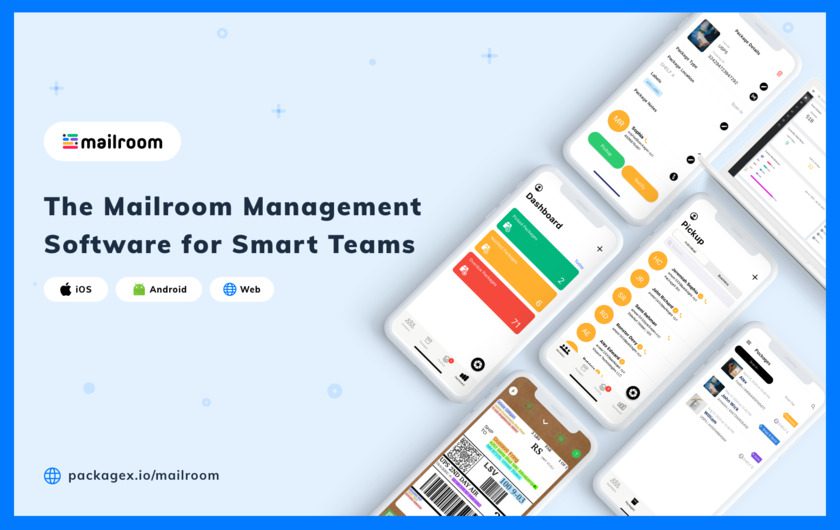 Mailrooms in universities often operate manually, creating an influx of packages that are undelivered, delivered late, or lost in transition.
Students, professors, and the faculty may receive several packages, letters, and shipments from various sources, making it quite a challenge to keep up with the overflowing number of pending deliveries, making it an imperative need for a smart mailroom management software to tackle the issues. It is a plus if the mailroom management software uses AI technology.
Often, letters from educational ministries and other agencies are time sensitive and can lead to grave consequences if they are delivered late.
The good news is that Mailroom by PackageX offers a convenient solution to most mailroom challenges faced by universities today. Here are some common issues faced by university mailrooms along with their solutions.
Tracking Parcels
One of the biggest challenges faced by university mailrooms is tracking their parcels. With multiple recipients and a large volume of shippers, it can become quite difficult tracking all the packages efficiently.
Evidently, it can lead to lost shipments that would be untraceable by the receiver or the mailroom staff. Imagine a student, expecting an important notice via mail is unable to find it. Such challenges are prevalent in university mailrooms and leave a significant impact on the receiver, while tarnishing the reputation of university management.
With an efficient mailroom software, universities can now easily track all their parcels to determine their current status, as well as to trace lost shipments with relative ease.
The multi-tier mailroom management software maintains milestones for delivery progress using live systems to gain tracking reports in real-time. The smart OCR capability that relies on a smartphone camera makes it convenient and reliable to scan and update progress of shipments without needing any special equipment. Check out the Dispatch by PackageX to learn more about how shipments can be tracked in real time.
Late Deliveries
Universities often send out internal mail to students and faculty members with important announcements. For students, it often pertains to semester schedules, class updates, fee payment reminders, and other internal memos, newsletters, and notices.
Often, the students are required to self-pick their parcels from the mailroom to eliminate the need for excessive distribution costs. However, sending notification to each student once their parcels or shipments are received by a mailroom would be hectic and tricky, requiring quite a bit of man hours to complete the task manually.
The smart and sophisticated software does more than simply track and trace packages, but also maintains real-time communication and notifications with the receiver to make the entire process a hassle-free experience.
The OCR enabled software can be used any smart gadget to understand the shipment details. It can also retrieve the contact information of the receiver to seamlessly inform them once their package is ready for collection.
The automated system does not only make it easier to contact a large list of receivers, but also allows them to track the status of their shipment. The mailroom package can scan up to 50 packages in a go, making it quite the solution for mailrooms that receive a lot of shipments and parcels.
Short On Storage Space
No university has a massive space or a warehouse that is dedicated for its mailroom operations. Due to several factors, a university mailroom is bound to be a small area with limited storage space.
However, inefficient mailroom processes can pile up a stock of undelivered parcels that would cram the storage area, making it difficult to store new shipments. Lost or undelivered parcels mount up over time, surely making it challenging to store and distribute newer packages, but not with a digital mailroom solution.
Mailroom by PackageX offers a convenient solution for small scale mailroom operations that is cost effective and efficient. The software allows students and other faculty members to learn about their shipments instantly once the packages are scanned into the system.
This method allows the mailroom to keep rolling its shipments, creating space in their storage area to accommodate new shipments. Moreover, it informs the receivers to collect their parcels, which speeds up the self-pick system.
Inefficient Prompts
When people are expecting a package or a shipment, it is always better to keep them informed. In today's era, time is of great value, especially in complex situations. Informing the recipients about their pending deliveries and parcels is of vital importance to ensure their shipments are collected on time.
With Mailroom by PackageX, mailrooms can send out volumes of notifications to ensure the recipients collect their parcels on time.
Compiling Statistics
We live in the age of data analytics to improve services. However, a typical mailroom would require time and effort to compile reports that help them find shipment patterns to improve package handling services.
Such an option can offer insights on mailroom processes, management, and delivery efficiency. With an efficient mailroom software, universities can generate monthly, weekly, daily, or custom date range reports almost instantly generate reports that can help them streamline their operations.
Final Remarks
Quite conclusively, you can speculate the obvious benefits of PackageX' mailroom management software that is highly adaptable. It is believed that using a mailroom service to improve operational control.
The mailroom management software does not only help you generate reports, but also detect underlying patterns, seasonal spikes in shipments, and other specifics that can improve delivery schedules, forecast the need for manpower, as well as identify ways to lower the costs.