How to Download Videos from Facebook in MP4 or MP3?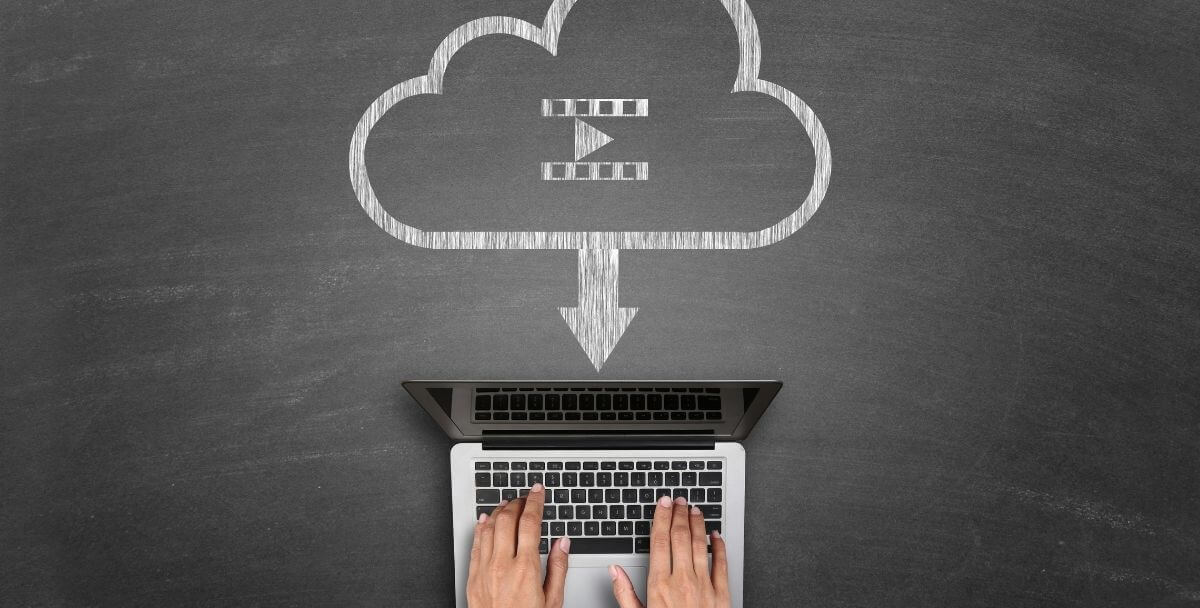 For all those times when you need to download a Facebook video or convert a Facebook video into MP3 audio, we're here to help you get all set up with SnapDownloader.
Despite all the negative press that the largest social media company in the world is getting recently, just a few hours of Facebook downtime was enough to send shockwaves through our social lives. Apart from being a great source of communication, an excellent marketing platform, and even a "news outlet" for independent journalism, Facebook also doubles up as a massive media sharing platform. In fact, more than 4 billion videos are watched on Facebook every day by its active user base of a whopping 2.9 billion. 
With a quarter of all humanity logging into the same social media platform every day, you are bound to end up with an ocean of entertaining, educational, and viral videos on Facebook. Despite being easily accessible, Facebook videos cannot be shared easily everywhere, especially with those who don't have a Facebook account. Moreover, what if you wanted to turn a Facebook video into MP3 audio and listen to it offline? 
How to Download Videos from Facebook in MP4 or MP3?
The easiest way to fetch videos off the internet would be downloading them for offline viewing later, but sadly, Facebook doesn't let you do that. The entire premise of the social media platform is to keep you engaged and online for as long as possible, so the only way to watch these videos is by fetching them with an efficient video downloader tool such as SnapDownloader. 
Step 1: Download and install the latest version of SnapDownloader app, available for Windows and macOS. 
Step 2: Launch Facebook in a web browser and navigate to the video you want to download.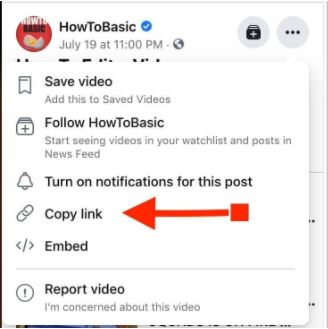 Step 3: Click the three-dot button on the top-right corner of the video screen and select Copy Link from the drop-down menu. Similarly, you can also copy the URL from the address bar of the website. 
Step 4: Open the SnapDownloader app and paste the video URL you copied from Facebook into the Search field.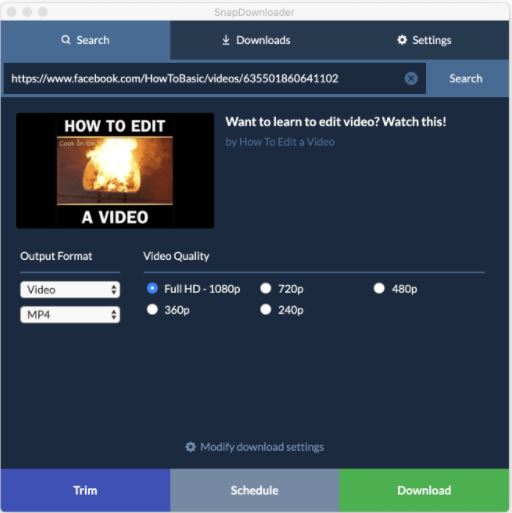 Step 5: Select the Output Format (MP4 to download video format and MP3 to download only the audio clipping from the video). 
 Step 6: Press the Download button and SnapDownloader will begin to save the video.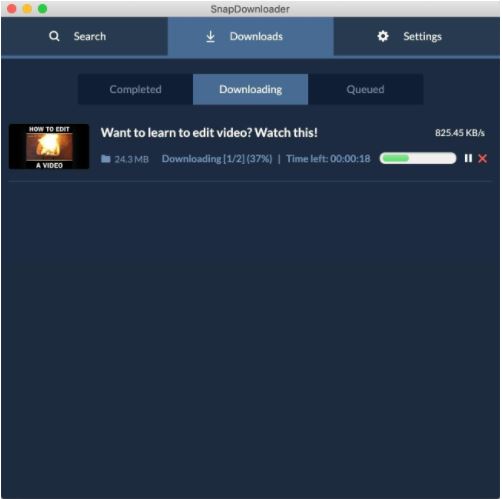 Step 7: After the Facebook video has been downloaded, you will be able to play it directly from the Downloads tab. 
That's all there is to it to download Facebook videos. Depending on the size of the video, as well as your internet connection, the video download should take no more than a few minutes. The downloaded Facebook videos can also easily be trimmed with the built-in editor, or you can schedule the video download for later if you're on a capped internet connection. 
Reasons to Use the SnapDownloader Facebook Downloader 
SnapDownloader is more than just a great Facebook video downloader, as it also grants many other features, and here are just a few of those features that you must know about:
Download from 900+ media sites: Apart from Facebook, it also supports websites like YouTube, Vimeo, Metacafe, Twitter, TikTok, Reddit, Twitch, etc., and you can use the tool to download videos effortlessly. 
Supports up to 8K: SnapDownloader lets you download videos in 8K, 4K UHD, UltraHD, 1080p, 720, and many other resolutions. But to download high-resolution videos, you will need to look towards YouTube since Facebook only supports 1080p Full-HD content for now. 
In-built editor: A unique feature of SnapDownloader is its ability to help you trim any Facebook video and download only a specific part of the video to your device. For instance, if you can easily save only a specific part of a long video, SnapDownloader helps you download that clipping through the in-built trimmer.
Convert videos to audio: SnapDownloader allows you to easily convert any video from any website into an MP3 audio clip. All you need to do is change the video output format before you download the media file, and there is extended support for formats such as MP3, AVI, AIFF, MP4, M4A, AAC, and WAV.
No advertisements: A ridiculous number of ads jumping up on the screen is perhaps the last thing you need when downloading a Facebook video. Fortunately, SnapDownloader has a one-time payment model that keeps the entire experience ad-free, providing you with uninterrupted video and audio downloading. 
User-friendly and 24/7 customer support: The SnapDownloader app comes with a user-friendly interface, and it allows you to fetch different videos with a few simple clicks. Even when things don't go according to plan, reaching out to customer support is quick and reliable, which is around to help you round the clock. 
Download geo-restricted content: Similar to YouTube, which blocks content regionally on several occasions, there are certain Facebook pages and their content that may not be available for viewing in your region. SnapDownloader takes care of this hurdle too, with a built-in proxy that is designed to unlock regional content on these websites, giving you access to videos you may not be able to even stream, let alone download for offline viewing. 
Wrapping Up
Just log onto the internet and running a quick search will reveal that there isn't a shortage of downloader websites and apps that supposedly allow you to save Facebook videos for offline viewing, and it is true. However, before you click on the first one that appears on Google, take a moment to understand that all of these video downloader apps are not built the same. 
We suggest steering clear of these websites since most of them are filled with advertisements and annoying pop-up banners, which aren't just bothersome but can also severely slow down your computer system. SnapDownloader has been produced as a superior Facebook video downloading tool for the very purpose of avoiding corrupt and intrusive downloader tools that ruin the user experience to monetize the platform or tool. 
Did SnapDownloader and its slew of premium features allow you to download Facebook videos and even occasionally convert them into audio files with ease? We'd love to hear from you in the comments section down below.