Top 7 Presentation Templates for Your Real Estate Business
Of course, there is no universal recipe for success in any field. However, we now have many tools that help build a successful and working business. First of all, it concerns communication with clients and presentation of oneself on the market. When talking about real estate, many question the need for the digitization of this business.
However, the importance of digital tools should not be underestimated, as they can greatly facilitate your path to a recognizable business. Many platforms offer ready-made solutions to save your time, for example, MasterBundles with plenty of graphic design bundles. Even the simplest tools presented here are important, so let's talk about them. Today, the main topic of the article will be PowerPoint presentation templates that will help your real estate business be competitive and successfully create your brand.
Why are presentations important in real estate?
Such a simple at first glance tool as presentations has great potential and a significant role in shaping the overall picture of your business. In the context of real estate, many aspects need to be seen by the world. If we talk about the obvious things, then this is the company presentation, real estate items for sale, the launch of new projects, etc.
The success of a deal often depends not only on the beauty of the interior or great location or the uniqueness of the idea and a cool team but also on the ability to present yourself. This simple truth is often forgotten, although it is the main principle and purpose of using presentations. You need to know how to show information and present your company properly. Often this becomes a decisive factor in the success of a business.
Speaking of presentations, their simplicity and accessibility are often misleading and negatively affect the final result. However, the effectiveness of this tool depends on how well it is used. Take a look at a few tips that will make working with presentations and the final product of their use bring you the most benefit.
Tips for your presentations.
Choose a simple design. Do not overload the slides and try to use everything at once. Add simple elements that will only emphasize the product and not interfere with its perception.
Less text – more images. The main function of a presentation is to show what you want and help you tell a story. Most of the text should be heard by the viewer, not seen. This principle will help keep the slides clear and not clogged.
Templates are useful and even important. You can rely only on your vision of a beautiful presentation, but this is not always possible and necessary. Many PowerPoint presentation templates do most of the design work for you. They provide a unified design and, accordingly, easier perception of information by customers, colleagues, etc.
Find your style. This point is especially relevant for those companies that often use presentations as a way of interacting with customers. Thoughtlessly copied templates need minimal improvement and personalization to become an effective way of communication. It is important to have a recognizable design, which will vary depending on the needs.
Do not be afraid of experiments. Even when choosing templates, you can stick to the usual shapes and colors, but this approach limits you a lot. It is worth taking a closer look at different color schemes, and ways of designing infographics and fonts. This is the only way to get an effective presentation as a result.
As for the last point, the number of templates available on the Internet often does not make it easier, but rather complicates the process of creating a presentation. It is extremely easy to get lost among various styles, fonts, and color solutions, but not to choose the one that is suitable for real estate topics. This is why we have created a selection of real estate PowerPoint templates
that are ideal for various real estate topics and will save you lots of time. Let's take a look at their main features.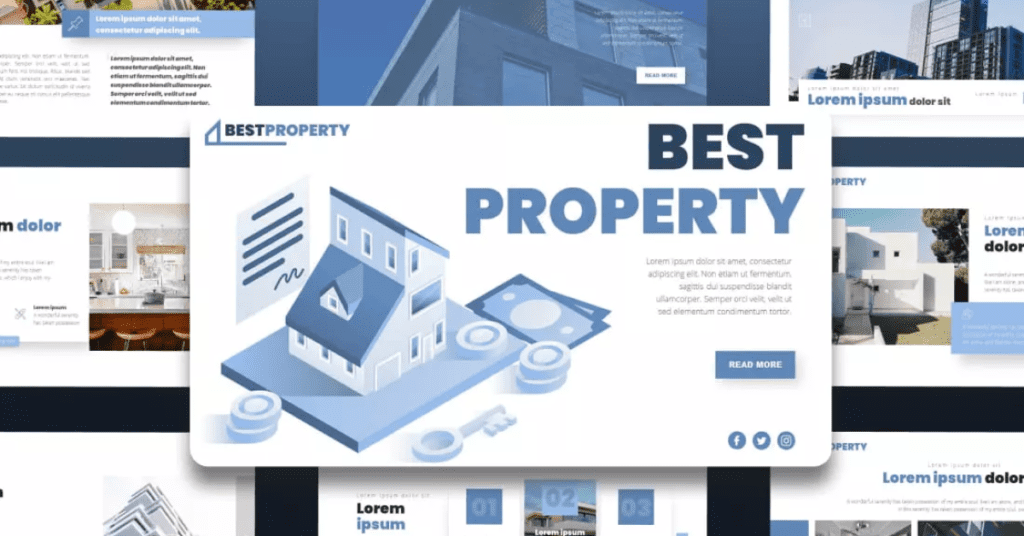 This template combines all the necessary elements of a presentation that you need to use when selling real estate. It includes many graphs, charts, diagrams, and options for visualizing information and presenting photos. 50 slides with everything you need is more than enough for a beautiful and effective presentation. In addition to the shape variations, five pleasant color options are also available. This budget option does not compromise efficiency when working with slides and has a great final result.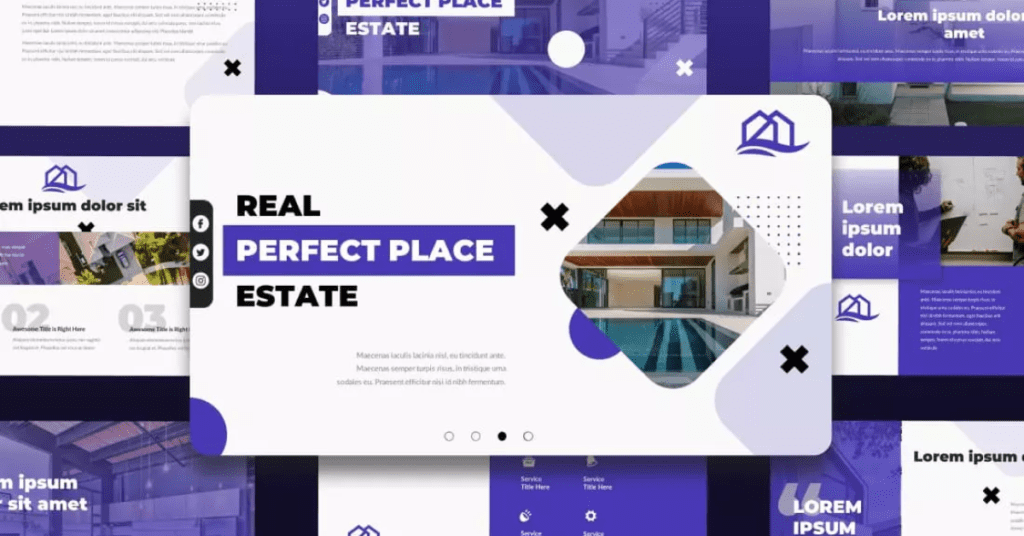 An option for those who do not like minimalism and need a lot of graphical data visualization. This template offers 50 creative slides with a wide range of possibilities for their modification. This type of blank performs almost all the work with the design instead of you, which can't help but please.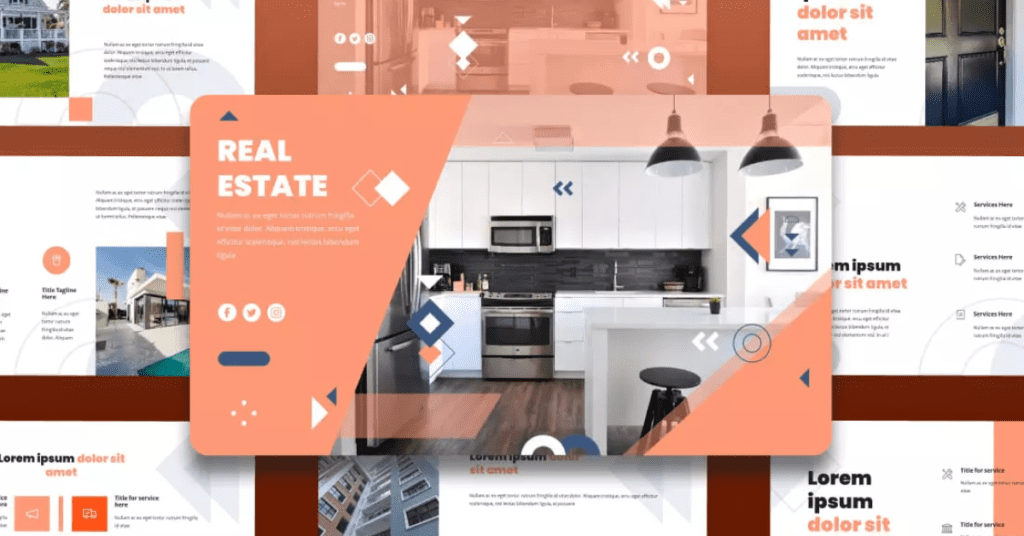 You can never have too much color, so this template pleases with 5 built-in color variations. Choose from 50 interesting slides that can be adapted to different formats and devices. There is a lot of graphic content, as well as plenty of room to add your photos and make the presentation more personalized, which is very important in the real estate industry.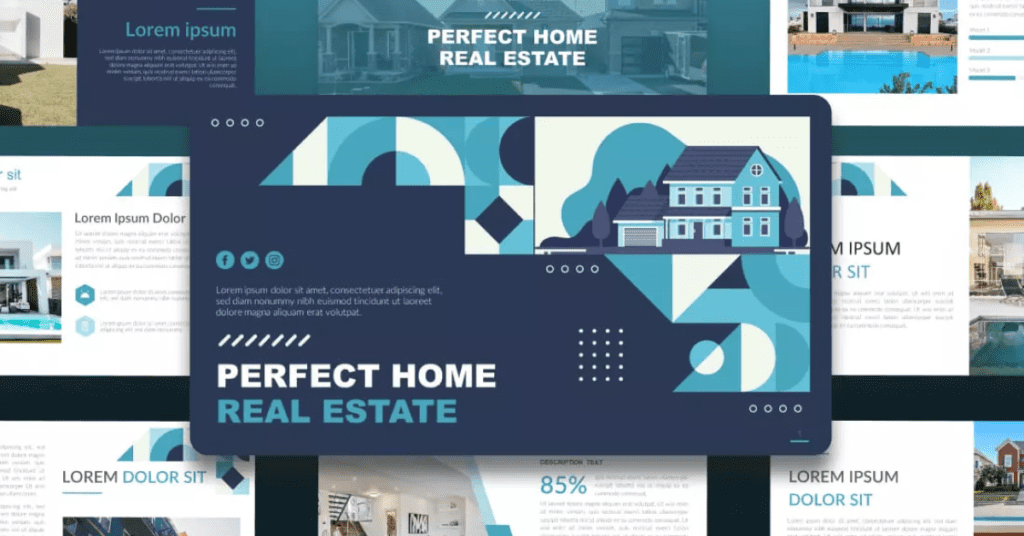 The uniqueness of this template lies in its editability. Each slide can be created in 5 colors themes and 3 file types. Also, this template offers interesting options for background images, which make the design of the presentation complete and do not require additional efforts in choosing a graphic designer.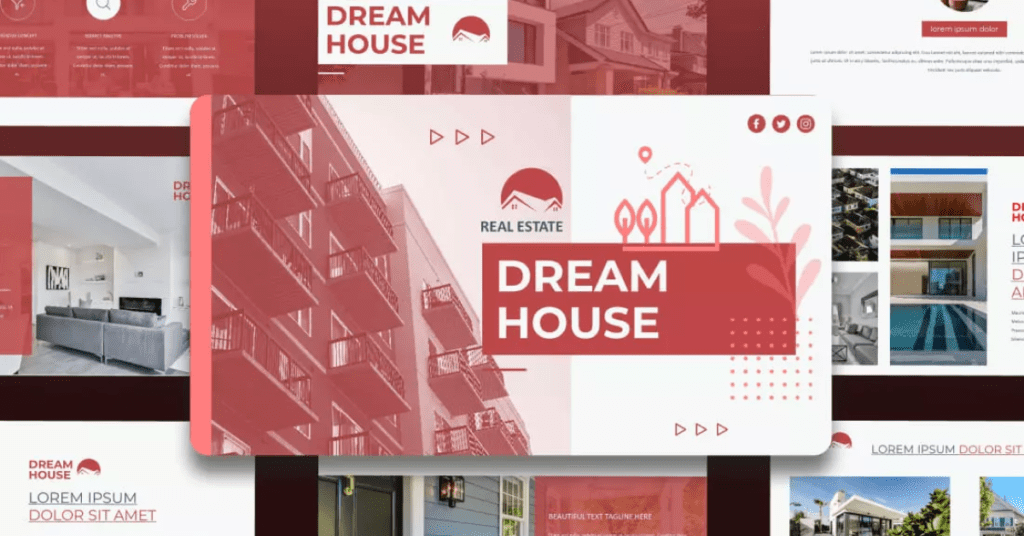 This presentation template will be a good solution for visualizing anything in the real estate sector, as it stands out for its bright shades and stylish presentation of information. It is this approach that increases trust in you and your product, company, or service. The template includes all the necessary categories and allows for arbitrary modification of design elements.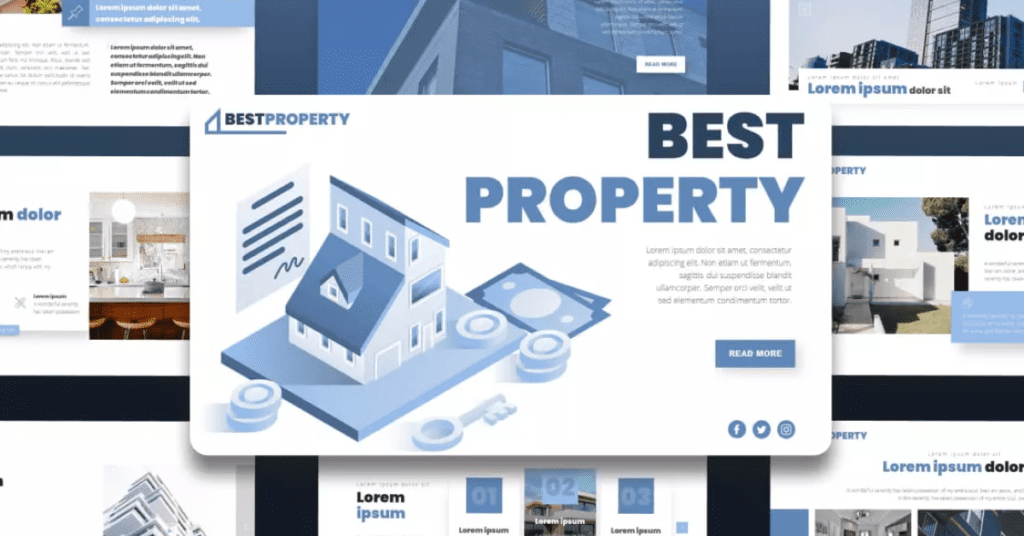 50 stylish slides with enough space for text. Sometimes text on slides cannot be avoided, so these types of templates are also essential. There is support for three file types and 5 color themes. The template is easy to modify, so it is ideal for beginners.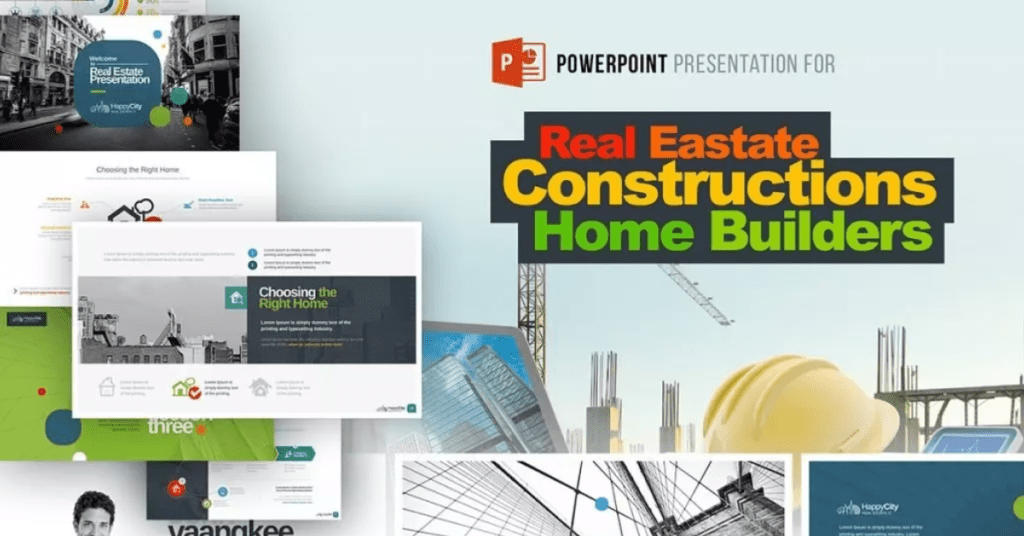 This template impresses with its scale and wide functionality. This bundle includes all the necessary graphic elements, animation effects, fonts, various color options with three ways to combine them, and light and dark themes. It's a set of all the previous templates which will save your time and help you create lots of perfect presentations in every field of your real estate business.
Conclusion
Using templates makes it much easier to organize large amounts of information for your real estate firm's clients. This method will ensure stylish and effective presentations, which will be the first step in the digitalization of your business. Such a set of various templates will be a handy tip that will help when needed and will become the basis of a successful presentation of your real estate business.