Be Different! Throw A Party On A Bus! Here's How!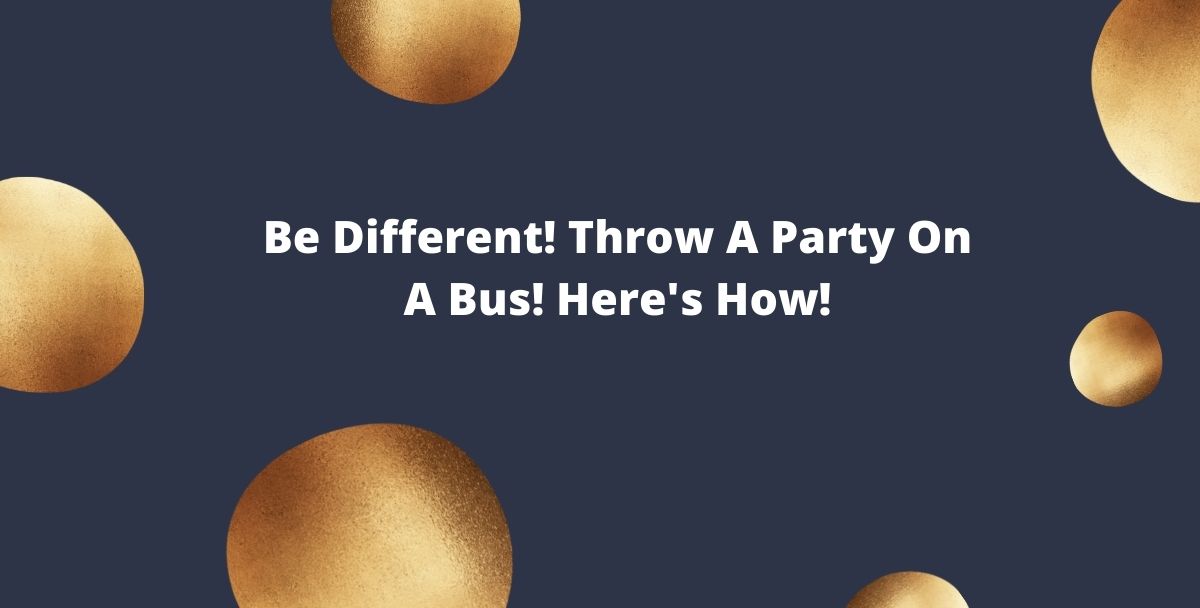 You can throw a party in the house, pub or backyard. But your guests will love it if you make the party unique. So why not throw it on a bus? Throwing a party on a bus will not just make it enjoyable but will also help you arrive at the destination while in a celebratory mood. Also, it will enable you to move from one location to another while still partying. However, the challenge you are likely to face is how to organize the party. In addition, it may be difficult for you to know what to do if you have never had an opportunity to organize a party on a bus.
But to be able to throw a good party on a bus, the first thing you must do is talk to any Party Bus Rent provider in your area. It will allow you to pick the right bus, have fun and celebrate the occasion in a unique style. A bus adds value to the party and saves you from the cost of hiring a place or parking the bus at a fee.
Indeed organizing for any party is difficult and may cost you an arm and a leg. However, if you decide to have one on a bus, it will allow you to split some of the costs on your guests. Read on to see how you can throw a party on a bus.
1. Plan Ahead
Planning ahead is vital if you want the event to go off without a hitch. So, shop around for the right bus for the occasion. Have the number of people you plan to invite to the party and look for a bus that can accommodate them. Also, ensure to check out other amenities that you may need to make the day successful. The best thing you can do is book the bus 2 or 4 weeks in advance. It ensures that the bus will be available when you need it. Also, it ensures that you inspect the bus and confirm that it will serve the purpose. In addition, check and ensure that the bus is in good condition and is suitable for the party. Other aspects you may need to inspect are lights and the electronic devices.
Some of the things you must ensure are in the bus include a sound system, luxurious leather seating, and hardwood dance floors.
2. Let Your Guest Know In Advance
Avoid the inconvenience of late guest arrival by letting your guest know that you will have the party on a bus. It allows them to prepare and arrive at the pickup point on time. Also, let them know the places your entourage is likely to visit so that they prepare. For instance, if you plan to visit cold areas, alert them so that they carry warm clothing to enjoy the party.
3. Decide The Areas You Will Visit
A bus party will allow you to move from one place to another; as such, you'll need to plan where you will hold the party and the places you will visit. Let the driver know the places you have planned to visit in advance. If some spaces require early booking, ensure to book and pay for them in advance. Also, let the bus company know the areas you plan to visit so that they don't surprise you with bills. It allows them to plan how to fuel the bus to avoid inconveniences.
4. Choose The Theme Of The Party
If you want to elevate the status of your party, ensure to choose the right theme. But it would be best if you kept the theme simple to allow you to prepare for it. Also, it should be easier for you to decorate the bus with the theme and take it down at the end of the party. Banner ads, balloons, and steamers are easy to install. Besides, they are easy to clean up after the party is over. You may also install a TV so that your guests can watch movies as they party and travel. Other items you may consider buying include wigs, masks and hats. But they should come in colors that match the theme of the day.
5. Have The Right Foods And Beverages
The type of foods and beverages you will serve determines how successful the party will be.
So have a variety of foods instead of having one big meal. Also, carry enough linens and napkins to enable people to clean their hands easily. Additionally, know the number of visitors you have invited and buy enough food so that they can have at least three servings. The right type of foods you may include are chocolate bars, chips, pretzels, calzones and Italian pinwheel calzones
But ensure to carry enough drinks so that your guests can have one beverage and two drinks in an hour. Serve them appropriately to avoid instances of guests getting too drunk and disrupting the party. The best drinks are beer, coke and ram.
6. Organize For Music
You must choose your music playlist based on your guests' preference or the party's theme. Ensure to bring a smartphone, iTunes, or Wi-Fi. Also, find out the available channels and streaming apps that serve the areas you will traverse.
7. Games
Some of your guests may want to play games while the bus is moving. So having a chase board or scrabble board will enable them to have fans as they cruise around. Also, your guests may enjoy playing charades. Therefore, ensure to write down things that the guests can guess. Ensure to reward them for their right guess.