How To Convert Mp3 to WAV Online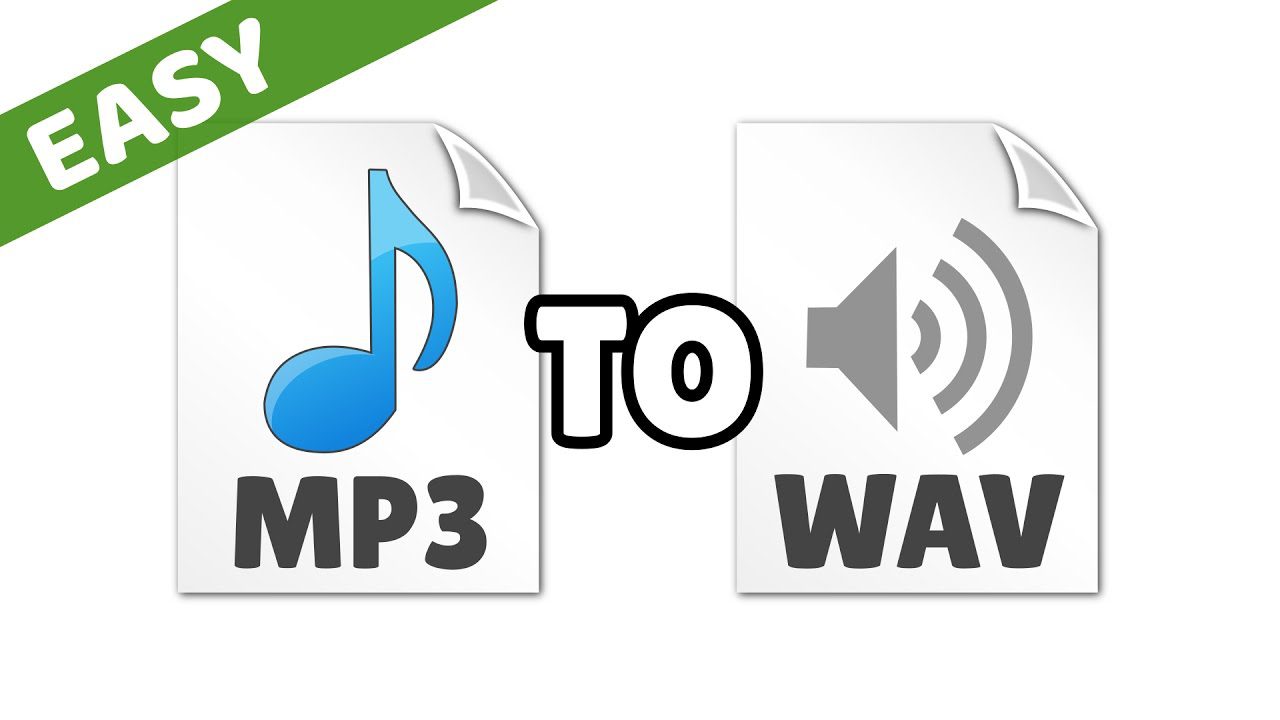 Mp3 files aren't ideal for every workflow in sound engineering, although it is a versatile audio format. A WAV file format from Microsoft is a standard file format for windows devices and PCs, and it works too for Mac OS, and it is the best choice for audio and video editors. Why do audio and video editors prefer WAV file format over Mp3? It is because WAV files are lossless compared to mp3 lossy file formats. What is an mp3 to WAV converter, and why is it ideal for converting mp3 files to WAV? We can safely conclude that WAV file format is a high-quality, uncompressed audio file, and Mp3 to WAV Converter is a tool or an app for converting mp3 audio files to rich and high-quality WAV file formats. Using an mp3 to WAV converter app, you can easily meet all your sound engineering and audio editing needs.
Mp3 file extension
Mp3 file extension is famous for storing music data, and many devices have built-in support. This file format compresses files to size down to a fraction of what WAV file extension uses. It technically reduces quality to achieve the small size that you can effectively send through the internet. You can also stream mp3 files without buffering.
WAV file extension
WAV files are files saved in Waveform audio format invented by Microsoft and IBM for use in PCs. WAV files contain raw and uncompressed audio data hence recommended for professional music artists because of the high-quality sounds.
How to convert mp3 to WAV using Adobe media encoder
The media encoder can handle virtually any media file conversion needs, and it is a pro in converting mp3 to WAV. How to use it to convert your files is straightforward, and it allows you to encode your digital audio into different file extension types. Follow the following steps to convert your audio files from .mp3 file extension to .wav file extension with ease:
Step 1
Drag or upload your audio files into the encoding queue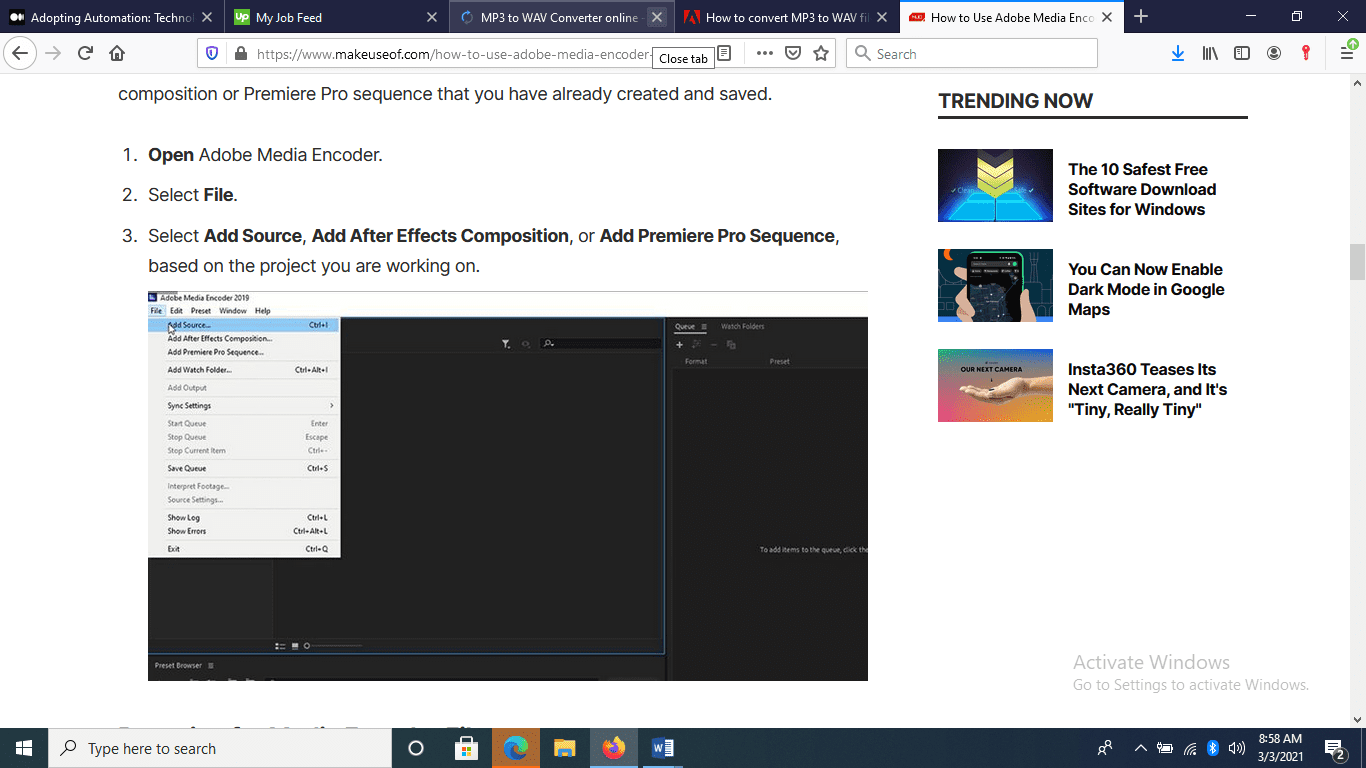 Figure 1 MP3 to WAV file extension
Step 2
Select WAV from the format presets on the drop-down list.
Step 3
Choose the file to convert and export settings to adjust accordingly.
Figure 2 how to convert mp3 to WAV
Step 4
Click the start button to start the queue; the mp3 file starts to encode and export your file to WAV.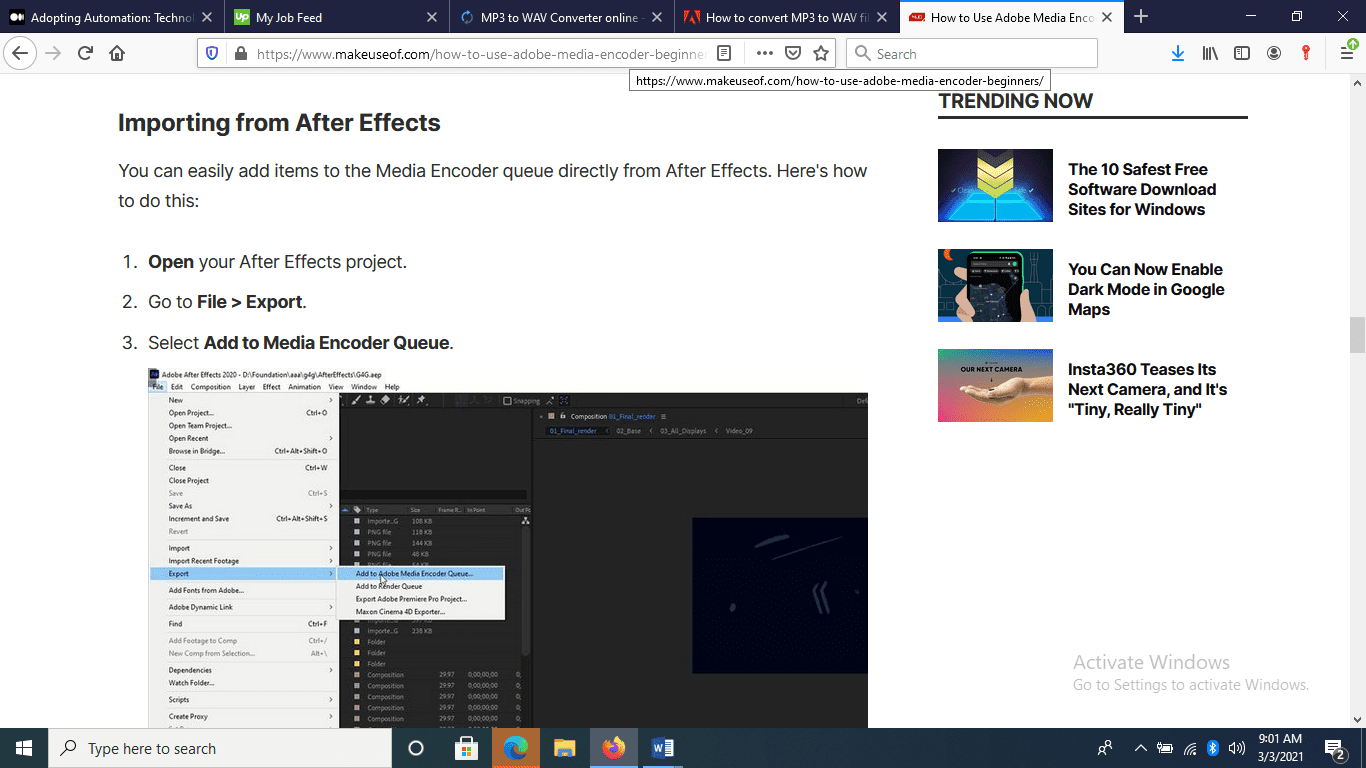 Figure 3 How to convert MP3 to WAV online
After exporting your file, it is time to clear the queue; after using adobe media encoder many times and finding it a breeze, you will end up with a queue of lifetime files, and you need to know to get rid of them quickly. And it is quite straightforward: open the media encoder and select the media files you wish to discard within the queue. Select a block of files by holding the shift key as you select from the top downwards to the last file. Right-click and select the remove option, and they will be gone.
If you were struggling to unravel "what is mp3 to WAV converter", now you know what it is and how useful it is for sound engineers and the music industry. And if you are a beginner, the step-by-step guide above will help a great deal.
You may want to dive deeper into media encoder capabilities to learn more about features and the rundown of how the encoding process works.
Perks you get for using a media encoder.
There are many perks you will get for using a media encoder to render your media files. First, it gives you the option to perform parallel encoding so that you can export multiple file-formats at a time, improving your speed and upping your workflow. Whatever file extension you want to convert files to, you might want to try a media encoder for parallel and speedy file rendering.
Using online converters
There are several online media file converters; some are free, while some need a subscription. Examples of online free converters are Ontiva Youtube to wav Converter, and Evano video and audio converter among others; you can convert your audio and video files to different formats for free.
How to convert mp3 audio file to WAV using FreeConvert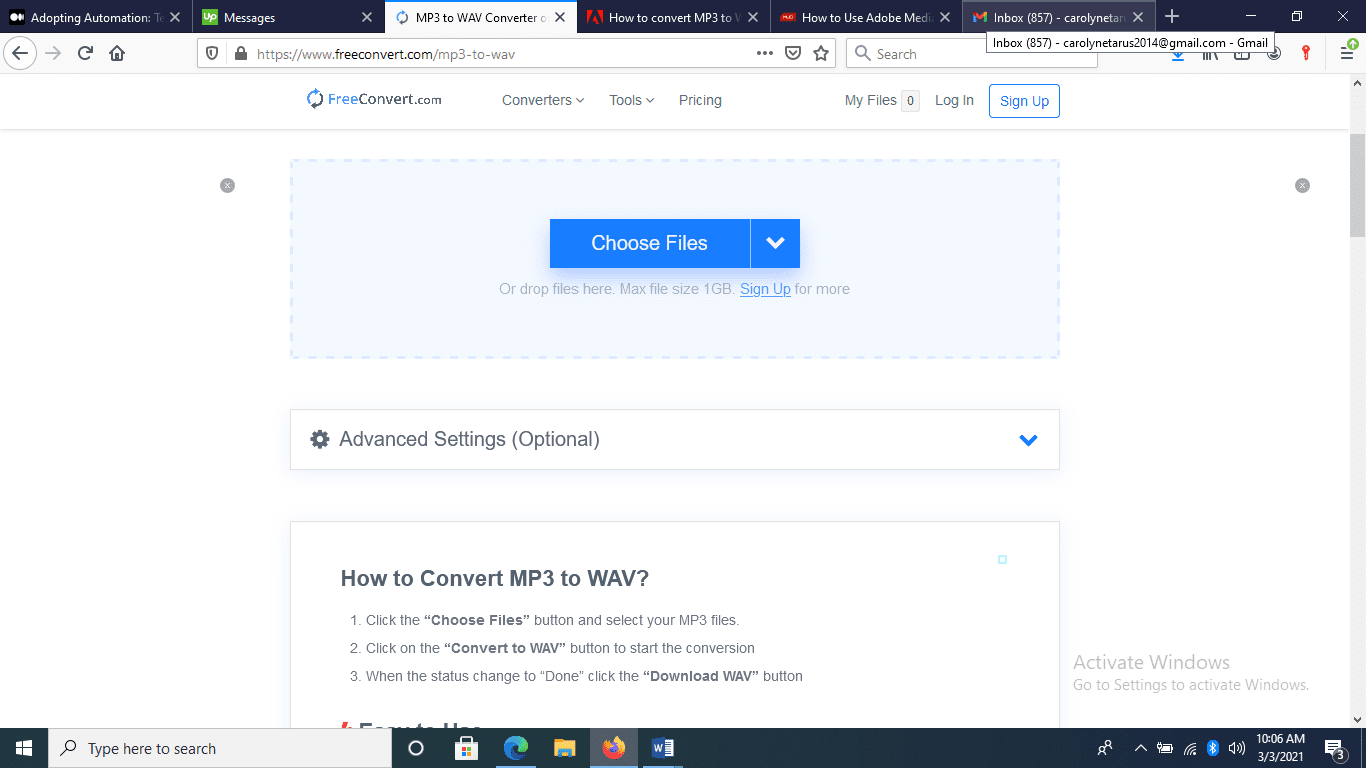 It is quite easy to convert audio files from mp3 file format to WAV using FreeConvert:
Step 1
Open the FreeConvert on your browser.
Step 2
Click the "Choose files" option and select mp3 files to convert.
Step 3
Click the "convert to WAV" button to begin the conversion.
Step 4
Wait until the status changes to "Done," and then click the "Download WAV," and you are done!
Why choose FreeConvert?
Easy to use: Select the mp3 file you want to convert and click the convert to WAV button, and you are done. You can also convert a batch of mp3 audio files to WAV, and the procedure is the same.
Quality sounds: You can convert mp3 files into high-quality .wav files within seconds, and you can adjust quality settings and sample rate accordingly.
Free and secure: It is free to use FreeConvert for your mp3 to WAV projects using any browser. There is guaranteed security and privacy when using FreeConvert, and at no one time should you trade-in your privacy and info for free services you receive. The files you upload are tightly protected with 256-SSL encryption, and all your files are discarded after two hours.
What is a wav to mp3 converter?  It is an app, either online or offline, to convert mp3 audio files to WAV file formats. An audio file's quality depends on the bit rate and other aspects of sound engineering during recording or file conversion. WAV files are uncompressed and raw; hence its quality is high compared to mp3 audio file formats. Mp3 audio file formats are specifically famous for use over the internet because it is light and small in size that you can stream with ease. WAV audio file formats, on the other hand, are raw and uncompressed hence suitable for professional music artists seeking ultra-high-quality sounds. WAV audio formats bitrate limit goes up to 22KHz while that of mp3 audio files limit is 18KHz. Another point to note about WAV file extensions is the PCM (Pulse Code Modulation) which records audio in riffs resulting in chunky audio files.