Explore Emerging Android Application Development Trends in 2020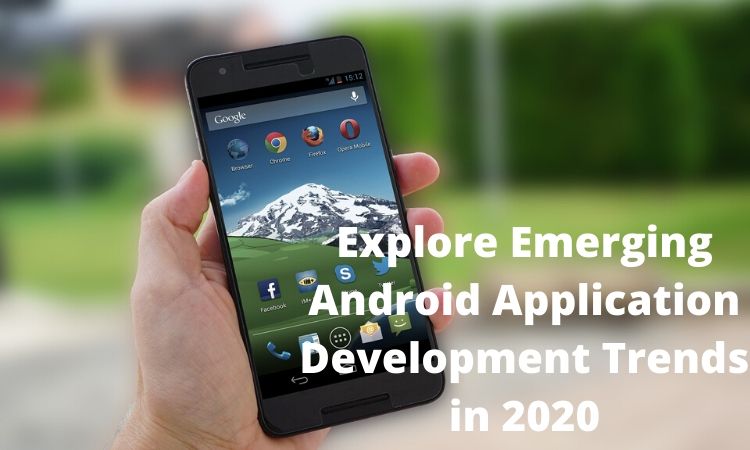 Entrepreneurs nowadays most frequently choose either Android Application Development or iOS to develop a mobile application for their business. But, those who are looking to expand their business horizon worldwide by increasing their customer base often choose the Android platform to develop their mobile application.
With 85% of the total market share, Android is considered to be the most used mobile operating system. Since its launch in the year 2008, Android has achieved many milestones and became the most preferred mobile operating system in today's time.
Today, Android witnessed highly impressive adoption rates. This prompts businesses to develop their business application on the Android platform to discover various possibilities to grow their business adequately. It, on the other hand, also increased the demand of Android app development services.
As we all are aware of the fact that technology tends to change with time, Android app development trends are also not meant to be constant. These trends change year by year based on changing market scenario, users' behavior, demand, etc.
So, if you are looking to develop an Android application for your business, you need to be aware of the latest development trends that redefine the way apps are developed.
When hiring an Android application development company, you can talk to them about these web trends to check whether they are aware of the latest Android development trends. Besides, you should also ask them to discuss their strategy to implement these trends while creating your application.
Top Android App Development Trends 2020
In this blog, we are going to explore some emerging Android application development trends that are impacting the way these apps are developed.
Android Apps Architecture
The credit goes to Google that provides a complete guideline for architecture to build an Android app and also recommended to help developers in creating secure, powerful, and high-performing mobile applications.
Android architecture serves as a great starting point and helps programmers in developing a highly stable mobile application. Leveraging architecture components, developers will be able to build applications with less boilerplate and also they can emphasize code, which is responsible for making your Android app unique.
Multiplatform Development
It's another Android app development trend that is on the rise in 2020. We all are aware of the growing popularity of Flutter that revolutionized the concept of multiplatform app development concept by letting developers use a single codebase. Flutter also serves as a mobile SDK that offers a complete React Native view without any necessity of a JavaScript bridge.
Kotlin, on the other hand, is a new programming language for developing Android applications, which lets developers build applications with the help of native libraries and also several instruments.
AI, AR/VR & ML
Emerging technologies like Artificial Intelligence (AI), Augmented Reality (AR), Virtual Reality (VR), and Machine Learning have a major impact on Android app development. Leveraging these technologies helps developers integrate cutting-edge features, functionalities, etc. to make mobile apps more engaging.
Implementing the potential advantages of these technologies has also improved the capability and thus the usability of Android apps nowadays. For instance, chatbot, which indicates the unmatched potential of AI and ML, has revolutionized the way business communicates with customers.
[Read more: What is Content://com.avast.android.mobilesecurity/temporarynotifications?]
The emergence of Instant Apps
The credit goes to Google Play Instant that lets users access Android applications even without downloading and installing them on their devices. In other words, users can use these applications similarly to websites. Instant apps operate directly from cloud locations and let users access a wide range of content hassle-free.
Instant apps are quick and also tend to remove the clutter of certain unnecessary applications on devices. The instant app has been the most popular trend for the past couple of years and is expected to remain in the trend even in the year 2020.
Android Enterprise
Android is the second most used device in enterprises. This increased the demand for Android applications in various organizations. Developers leverage Android enterprise that adopts the right practices of the Android app in the enterprise ecosystem. Besides, it also lets them get complete control over apps and data claimed by organizations.
Android Jetpack
When it comes to Jetpack, it comes as a complete suite of libraries, guidance, tools, etc. to make programmers code robust and top-quality mobile applications. These are highly important components that let developers follow and implement the best practices and accomplish even complex app development projects most efficiently.
[Read more: Ways to set Content Com Android Browser Home]
Conclusion
So, above are top Android application development trends in 2020, which developers implement while creating mobile applications. While hiring Android app development services, you should make sure whether developers build apps with these trends or not.
As a technical writer, Maria loves to explore the latest technologies used for website and software development. She has mastered the art of writing creative content and written blogs, articles, etc. on a variety of topics like mobile application design, iPhone application development, etc.