8 Benefits of High-quality UI/UX Design + Expert UI/UX Design Tips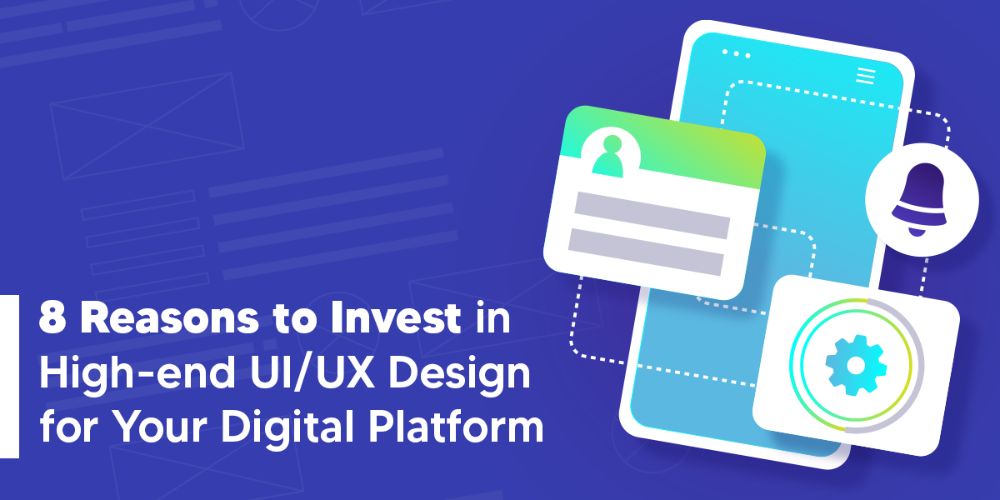 8 Reasons Why a Great UI/UX Design Is Important for Your Platform + Tips to Improve Your Platform's Design
With the increasing competition in the technology sector, every platform owner is looking to differentiate itself from other brands and create a distinguished market position. One way to achieve this objective is by delivering a great user experience to its target market to stay ahead. However, this is easier said than done.
Today, platform owners need to focus on creating a top-quality UI (User Interface) to deliver a high-end UX (User Experience). This is an aspect that most of the platform owners, as well as users, look for in the present time.
Be it a website or a mobile application, platforms with poorly designed UI will have a higher chance of getting abandoned by the users. However, what is the difference between a good and a bad UI design? Let's find the answer to this question in the upcoming session.
Average vs. Great UI: What's the Difference?
Source: Wilderness Agency
Every platform has a UI/UX design. This is one of the initial stages of platform development and serves as the foundation for the core development stage.
However, not every platform is able to have a great UI/UX design. Platforms that have a poor UI/UX design fail to retain users and have a high bounce rate (for websites) or uninstall rate (for mobile apps).
On the contrary, a good UI/UX design is an excellent tool for customer retention. High-end UI design is the one that offers seamless navigation to the users and allows them to find what they're looking for with ease. Moreover, a high-quality UI/UX design has qualities of visual appeal and great user clarity.
Now that you know the difference between a great and average UI/UX design, you must be wondering why is investing in a great UI design important, right? Well, as we said before, a great UI is the key to a great UX and, therefore, user retention. Nevertheless, let's find out some of the key benefits of having a great UI/UX design.
8 Reasons to Have a Great UI/UX Design
This is a part of UI/UX design where the elements of a platform are located at different places for the users to interact with. Seamless navigation is an indication of high-end UI/UX design and is something every platform owner looks for.
To elaborate, by creating a high-end UI/UX design, you can facilitate easy navigation and allow your target users to find their way through the platform.
Moreover, having seamless navigation enhances the visual appeal of your platform and gives it a tidy look. This is a critical aspect of user retention and is, therefore, essential for every digital platform.
Lower User Support Requirement
It is commonly known that a platform with a well-designed UI/UX will be self-sufficient and will not require high maintenance. Speaking factually, a large number of user queries are regarding being unable to find certain features on the platform.
In this context, when you invest in creating a high-end design for your platform, you can largely cut down on the amount of user support you would have to provide otherwise.
This is beneficial in terms of delivering a top-notch user experience as well as generating good business. Moreover, a platform with such impact will earn a high market value for the brand.
Higher Revenue
Every business aspires to maximize its revenue and earn a higher profit than before. Digital platform owners achieve this objective by retaining users and making them loyal to their brand.
A great UI/UX is a highly efficient tool for this purpose. A well-designed platform is not only visually appealing to the users but also increases the platform's functionality and efficiency. This, in turn, increases the user engagement rate of the platform.
Consequently, by investing in high-end UI/UX design, a business can not just generate higher revenue but also earn a great brand reputation in the market.
Seamless Development
Design serves as the foundation for the actual platform development stage. To elaborate, the development team uses UI/UX design as a guide for understanding the project requirements and delivering up to the market requirements.
Without a clear and efficient design, it is almost impossible to develop a high-end platform. However, certain developers start working on a project without pre-planning the UI design. This results in obstacles in the development process and a compromise in the overall UI quality.
Therefore, by investing in creating an efficient and high-quality UI/UX design, one can ensure that the development process is seamless and efficient and the end result is up to the mark with the market's expectations.
Increased Customer Retention
As we discussed before, retaining customers on the platform is the key to achieving business success in the long run. However, amid the tremendous competition present in the market, it is becoming more and more challenging to achieve this objective.
A good UI/UX design is a tool for customer retention and is known to attract users to the digital platform. By having a good design, your platform will not only attract higher traffic but will also retain old customers and will generate repetitive business.
Moreover, digital platforms that are at par with the market's expectations often benefit from word-of-mouth publicity and witness a greater audience. Owing to this factor, investing in a great UI/UX design is an excellent idea to make your business succeed in the market.
Reduced Bounce/Uninstall Rate
A high user abandonment rate of a platform is a critical metric and is a nightmare for business owners. Consequently, every business aims to reduce the user abandonment rate to its lowest.
UI/UX design is a critical aspect in this context and is a major determining factor for a platform's bounce/uninstall rate. Speaking factually, 94% of users reject a website based on its UI/UX design.
However, this can be significantly avoided by investing in high-quality UI/UX design. An appealing design will attract the users to return to the platform again and again and, therefore, will control the platform's bounce/uninstall rate. This makes high-quality UI/UX design a must-have for digital platforms.
Increased Platform Efficiency
As we discussed before, the key to achieving efficiency in digital platforms is creating a high-end UI/UX design. A great design makes using the platform a pleasant experience for the users.
A well-designed user interface is crucial in this aspect and determines how the end-users will interact with the platform. Moreover, the more you focus on making an efficient platform, the higher your platform's success rate will be.
Platform efficiency is also a useful tool for controlling a platform's bounce/ uninstall rate, easing navigation, and improving UX. This makes investment in high-end design a must for every business.
Increased Ranking
Digital platforms like websites and mobile applications face massive competition. With a large number of platforms already available on the internet, it is essential to stand out from the crowd.
One way to achieve this goal is to improve the search ranking of your platform through digital marketing strategies (search engine optimization for websites and app store optimization for mobile applications). You must know that UI/UX design quality is one of the key ranking factors in this aspect.
It is commonly known that platforms that have a high-quality design have a higher rank on the search engine/ app store as compared to platforms with a basic and faulty design.
Naturally, these platforms benefit from higher digital visibility, increased brand value, and, ultimately, more traffic. This makes UI/UX design a highly crucial factor for businesses planning platform development.
These were the top 8 benefits of investing in a high-quality UI/UX design for your digital platform. However, there are numerous other benefits apart from the ones mentioned above.
Now that you are aware of why a good-quality design is important for your platform, you must be wondering how to improve the quality of your platform's design. We have you covered on this. Keep reading to find out 6 interesting ways to improve your platform's UI/UX design quality.
Tips to Improve Your Platform's UI/UX Design
Understand Your Market's Requirements
The foundation of creating a successful platform is understanding the target market's requirements. This is one of the primary stages of the UI/UX design process and is highly essential for platform success.
Market research enables the platform owner to understand the target market's requirements. This, in turn, helps in determining which features are worthy of adding to your digital platform. Moreover, you can also use this research to understand the market gap and gain a competitive advantage.
Based on this research and understanding of the market's requirements, you can create a list of features to add to your app. This list will serve as the basis of UI/UX design and will help determine the placement of different elements on the platform, therefore improving design quality and efficiency.
This makes market research a critical part of creating a high-end UI/UX that should not be neglected.
Customize Your Design
In the present time, many businesses either go for white label solutions or readymade UI/UX design templates to cut down on platform development costs. However, this often results in limited design customizability and high rigidity.
Also, since these readymade solutions and templates are available for a low price on the internet, there are numerous businesses that choose them for their digital platform.
This results in numerous businesses having the same design, which, in turn, decreases the business's brand value.
Moreover, no two businesses are the same. Therefore, a design that works for one business does not necessarily need to work for the other as well. This results in businesses compromising on the design quality and user experience.
Consequently, it is recommended to go for custom UI/UX design solutions. By customizing your platform's design, you can create solutions that are tailor-made for your business requirements. This will not only add to your business's value but will also ensure that your platform is delivering a great user experience. Also check UI UX designing company.
Go Minimalistic
One of the best UI/UX design practices is to focus on crisp and tidy-looking UI. Cluttered designs often end up confusing the users and create a bad impression of the platform. As a result, the users are unable to find what they're looking for and end up abandoning the platform.
However, one can overcome this challenge by going for minimalistic UI/UX designs. These types of designs are known for their aesthetic appeal and are favored by users. A user can seamlessly navigate through the platform and find what they need if the design is easy to understand.
Moreover, it is always a good idea to undergo designing than overdoing it. This makes the minimalistic approach an excellent tip for digital platform UI/UX designing.
Focus on Responsiveness
It is a commonly known fact that users use different types of devices to browse through the platforms. This is especially critical for websites, where the scope of devices extends to different desktop and mobile screens.
As a result, it is necessary for a business planning platform development to take all the users into account and create a design that is at par with all the device's requirements. This concept is known as responsive designing and is a great UI/UX design practice.
It is essential to note that even though design responsiveness isn't a ranking factor on the search engine, it is Google's recommended design pattern. This makes creating a responsive UI/UX design an essential factor for your digital platform.
By focusing on creating a responsive UI/UX design, a business can ensure that its platform delivers a consistently excellent experience to all of its users.
Improve Contrast
It is challenging for users to find and interact with a platform's elements if they are difficult to find. This results in a compromised user experience of the visitors.
One can overcome this challenge by enhancing the contrast of their digital platform's design. Contrast is essential to make each element shine out and be visible to the user without them having to look for it particularly.
Improving your platform's contrast will most certainly enable each and every element on the platform to be easily discoverable for the users.
Moreover, it is equally important for the platform owner to create a design that complements the overall theme. By optimally working on this factor, one can take their platform's overall user experience to the next level.
These were 5 tips to improve the quality of your website's UI/UX design. By following these tips, you are certain to create a high-end design that is at par with your business's as well as the target market's requirements.
The Bottom Line
This was it for the topic 'why good-quality UI/UX design is important for your digital platform'. We are sure that by now you have understood the importance of a high-end UI/UX design and how it can benefit your business in the long run.
By implementing the tips mentioned in the last section of the blog, you are certain to create a top-quality UI/UX platform design. This will most certainly turn out to be a fruitful investment for your business and will enable you to get high returns in a short time.