iTop Data Recovery Review 2022: Recover Lost Data Fast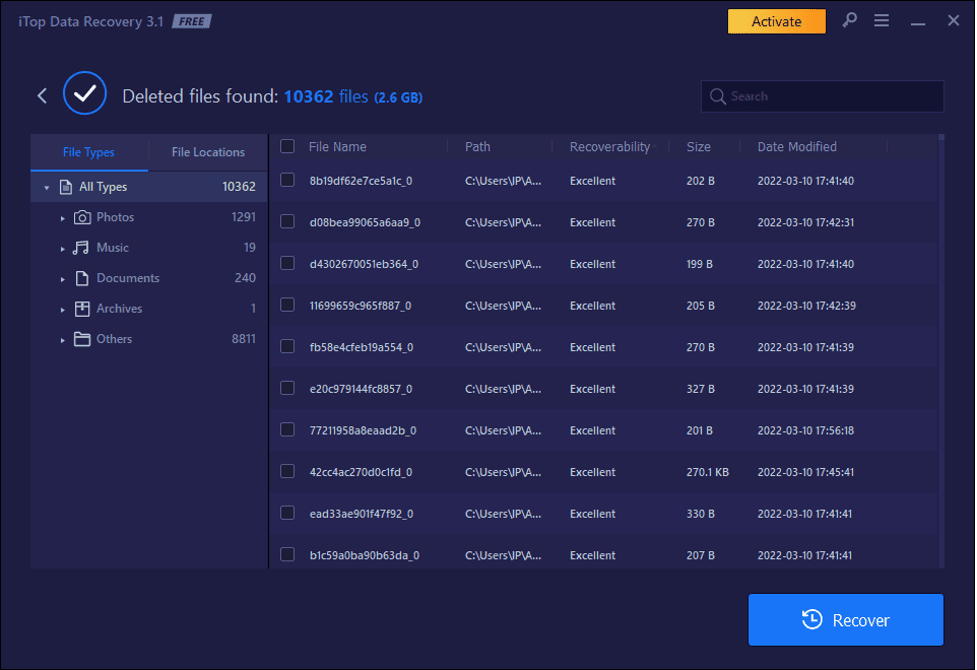 Lost your data?
You need not worry as instant data recovery is made easy by iTop Data Recovery.
Losing your data or important documents from your PC can be upsetting. It can be due to a hard drive formatting, a hard drive crash, computer virus and malware, or you just deleted your important files accidentally. For regaining the lost data, you can use software that can help you with instant recovery.
You can recover data for 1000+ file formats of your lost photos, audios, videos, and documents by iTop Data Recovery. It provides a simple step solution for data loss with more than 3 million downloads.
iTop Data Recovery is a fast data recovery tool. When you are using iTop, your computer will speed up the process of data recovery and scanning due to the efficient algorithm of iTop. So, you don't need to wait much time for getting your data backup. It's very quick to retrieve the lost data or deleted documents compared with some data recovery software on the market. In addition, you can get a variety of scanning options.
iTop Data Recovery enables you to get your deleted data by the file type and location.
Main features of ITop Data Recovery
iTop Data Recovery is easy to use and extremely simple to operate. The windows data recovery tool enables you to visualize previews of the corrupted, deleted, formatted and inaccessible data, including Microsoft office photos, videos, documents, and audios free of cost.
Furthermore, it helps you to know the status of each file as excellent, good or poor, thereby making sure what you need and if the data is recoverable or not.
The feature is convenient in precise and smooth data recovery. This app provides a high level of 95% recovery rate.
Data recovery depends on a wide range of factors. For instance, how recent the data is? Also, there are more chances of recovery if one hasn't performed many operations after the deletion of files. Moreover, this fast file recovery is virus-free and clean. Also, this process is safe and reliable, with no registration required.
Additionally, the privacy and confidentiality of the customer are considered as everything will be recovered offline, which shows that you can control your recovered data.
How to Recover Data with iTop Data Recovery: A Step by Step Guide
If you want to recover the lost data, you can follow these simple steps to successfully recover it.
1.The first step is to visit the website.
2.Then download and install the app to proceed.
3.You need to select the file type and select the scan mode. All the lost data will be recovered and found by file type and location.
4.Now, preview and recover the lost data.
Pros
Recover the data for 1000+ formats of deleted data and files
Provides a free preview of the deleted data
It recovers data from storage devices like USB, SDD, and HDD
ultra-fast speed with up to 95% success rate
Cons
Can't retrieve data from virtual drives and Linux drives
Corrupt or overwritten files are unable to retrieve
It isn't online, and you need to download the app to operate
Wrapping Up:
Using iTop Data Recovery is a safer and more secure option. So, If you are in a fuss and need instant data recovery, you can easily rely on this amazing data recovery software. Just follow the above-mentioned steps and get your data retrieved.
FAQs
What types of file formats does it recover?
iTop Data Recovery enables you to recover almost all kinds of file formats ranging from videos, pictures, music, documents like Excel and PowerPoint, or other types like eml, tbb, pst etc
Can you recover lost emails?
Yes, It helps you to manage email data recovery as well.