PoE 3.14 Patch Notes: The Ultimatum Trials, Balance Changes, & More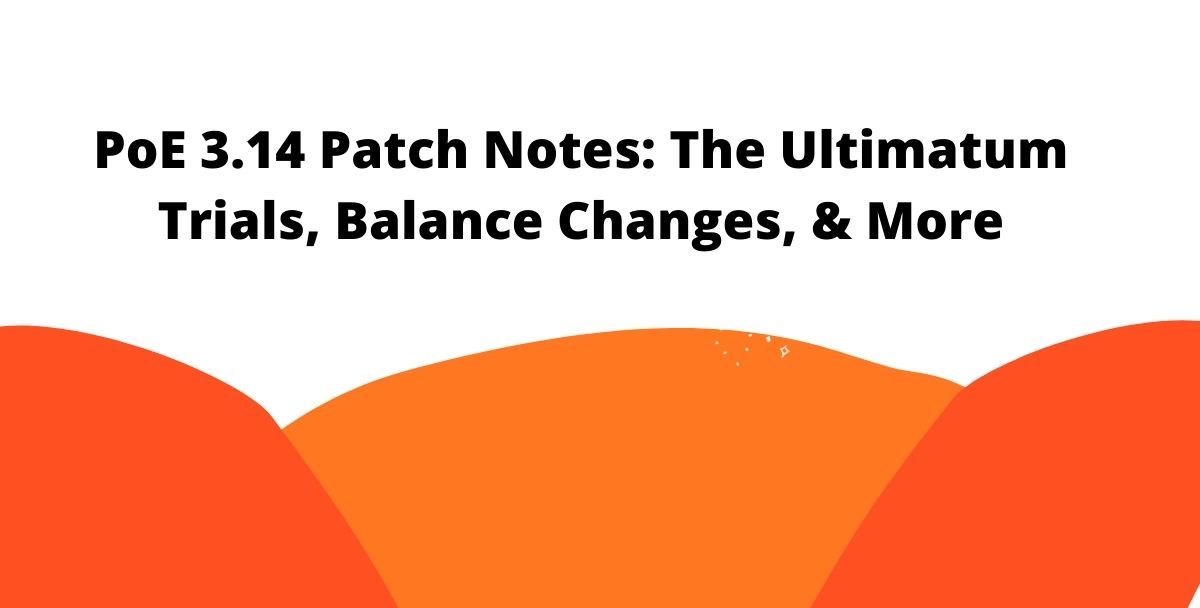 Learn more about what's to come in Path of Exile's 3.14 patch update
Grinding Gear Games has dropped an information bomb to its community by releasing a 20-minute-long trailer for Path of Exile 2 as well as their latest expansion that's coming to April 16, the Ultimatum. The fun doesn't stop there just yet either as Path of Exile is set to receive its patch 3.14 soon which, truthfully, doesn't have that much meat on the bone when compared to the other patch updates that players have seen, but what's important is the content of this update. According to the developers, their community can expect the game to have some balance changes that they have been wanting for years. Thanks to this, the 3.14 patch is highly anticipated by fans and casual gamers alike. Grinding Gear Games has always been transparent about future patch notes and updates that they'll be bringing to the online ARPG. They mentioned that the 3.14 update is much smaller compared to the 3.13 update and according to their schedule, the 3.14 patch notes are set to release in mid-April. Does this mean that players will have an easier time doing PoE trade and getting PoE currency? Let's find out.
What to Expect in the 3.14 Patch Update
Gamers can expect some quality-of-life changes that will be brought to the 3.14 patch. This update addresses some of the issues that plagued the game from previous updates. One of these is the item drops. Many players have complained about the item drops not being big or valuable enough to keep them motivated in playing the game. Grinding Gear Games' answer to that is by adding the Orb of Binding and Veiled Chaos Orb being droppable from monsters or through opening chests. These orbs can be used for PoE trade or swapped for PoE currency, much like the other items.
Facing bosses are fun in Path of Exile. Compared to the other games that make them seem like a chore to do, the innovations from Grinding Gear Games have led to beating each boss a rewarding and fulfilling experience. Thanks to the 3.14 patch update, it's going to even be more rewarding as it is. Grinding Gear Games have now added in new item drops when players are doing boss runs. These items include extremely powerful unique items that are specific to each league that has been released so far. Not only that, but new vendor recipes are will be made available as well for those who are heavily investing in crafting their own gear.
Since the Atlas expansion is still ongoing, the developers have decided to tweak a few screws here and there to improve it. There are now five new Atlas Base Types that have been dropped in certain regions of the Atlas of Worlds. This is great since there haven't been any new items so far that players can get from Atlas-exclusive locations, so having new Base Types is helpful and gives the players a reason to push on until the next expansion arrives.
The Ultimatum Trials: High Risk, High Reward
Alongside the beefy gameplay walkthrough about Path of Exile 2, Grinding Gear Games also released the official trailer for the Ultimatum, the latest expansion for Path of Exile that is set to release on April 16. In this expansion, players have the choice to either gamble it all or play safe as they take on trials from the Trailmaster. By pushing the envelope further, players will get to earn more rewards. The trials consist of fighting hordes upon hordes of enemies where players will face them in a small arena. If the player manages to survive a wave, they have two choices: take the reward that they've earned and leave the area or stay to tough it out and get through another wave of monsters in exchange for more rewards. The Ultimatum is all about choosing whether or not to gamble it all or lose everything. Should players not make it till the end, then they'll lose everything that they've earned so far. To begin these trials, players must sacrifice an item to participate. The items that the Trial master asks for are random. There will be times where players will need to shell out Exalted Orbs, but in return, should the players win the trial, then they'll receive double the numbers of orbs that they initially gave.
In A Nutshell
While the 3.14 patch isn't exactly as big as the other patches that came before it, the quality of life and balance changes as well as the fact that this is the patch where the Ultimatum expansion will be released makes it an exciting update that fans are eager to sink their teeth into once it goes live. With many more items available for PoE trade and swapped for PoE Currency, What do you think about the 3.14 patch update? Are you exciting about the Ultimatum expansion? Express your thoughts and insights in the comments!