Revealed: The Right Time to Buy a New Laptop!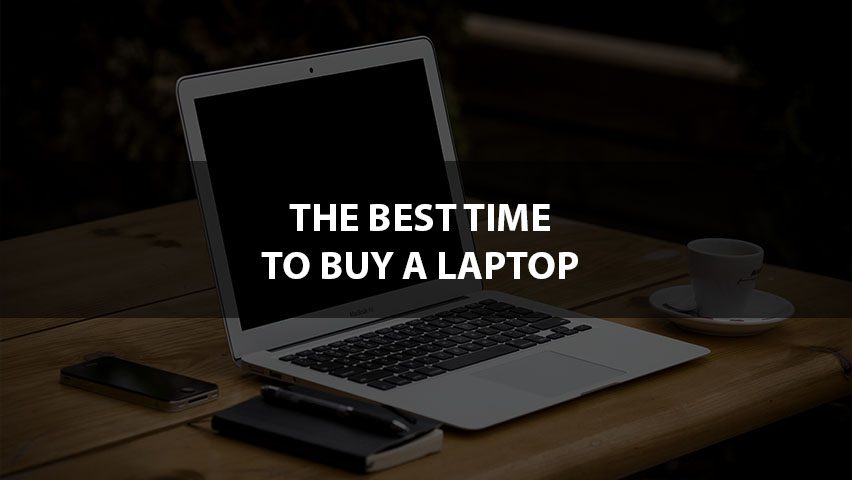 Laptop computers are a necessity for school, work, and your favorite binge-worthy TV shows.
While it's tempting to rush out to the mall to score that long-awaited new laptop, waiting for the right time to buy can save you a lot of money.
Even 10% off can save you $100 or more on a new computer. The more you save, the more money you have leftover to spend on speakers, risers, podcasting microphones, cases, printers, and other laptop accessories.
Are you ready to kick off your semester or job with a fast, reliable computer?
Discover the best time to buy a new laptop!
Don't Sleep on Great Deals
Hesitating on a good deal could cost you hundreds of dollars in savings. If you broke your computer and need a new one right away, check out your closest electronics stores first.
Before you do anything, visit the websites of nearby stores. Many local retailers feature current sales or laptop deals. Since more companies are expanding online shopping, they may have exclusive web deals that aren't available in stores.
Popular laptop manufacturers regularly have online deals, as well. You can check them out by visiting the brand's website directly.
One advantage of buying directly from a brand's web store is larger product selections, whereas retailers may only carry select items from a product line.
Coupons and Promo Codes
Next, look for current laptop coupons.
Read the fine print carefully for any stipulations. For example, some coupons may be stackable with others, while some are not. Don't forget to note expiration dates, too!
Promo codes are online versions of traditional coupons. Retailers advertise promo codes on homepages, but they also send out exclusive codes via email, social media, and text.
If you want a bigger deal, subscribe to a retailer's email list to enjoy "new customer" deals. You could save up to 40% or more in some cases.
Retailers don't always advertise their promo codes. You may have to visit a promo code aggregate site. These handy websites let you browse promo codes from most online electronics retailers.
You can also install special promo code browser extensions that automatically search and retrieve the best promo code at checkout.
Back-to-School Sales
Laptop coupons and promo codes are available year-round, but the best ones pop up during massive sale events.
You can always count on a big summer sale to score new laptops. Summer sales typically correspond with holidays like Memorial Day, Mother's Day, Father's Day, and Fourth of July.
Another big summer event to look out for is Back-to-School shopping. Back-to-School sales typically run in July and August; July is probably the best time of year to buy a new laptop if you're a student.
While many items are already marked off, you may need to clip extra back-to-school coupons and promo codes for additional savings. If a retailer has a free rewards program, sign up to earn points and save even more on future laptops.
Black Friday Weekend
Arguably, the best time to buy a laptop in 2021 is Black Friday weekend, followed by Cyber Monday.
Black Friday is the biggest shopping event of the year. This unofficial holiday has many origin stories, ranging from an infamous 1869 financial crisis to basic retail accounting.
The most commonly told story links Black Friday to the concept of red-black retail accounting; essentially, retailers operated in the "red" all year until they could recoup their losses after Thanksgiving.
Black Friday shopping events didn't pick up steam until the 1980s. Since then, Black Friday has been heavily marketed as the biggest shopping event of the year, yielding once-in-a-lifetime deals on laptops and electronics.
Black Friday is also known for its notorious doorbuster deals. Doorbusters are some of the best deals you can find on new laptops. You won't find these types of deals online, so you have to get to the store hours in advance.
Cyber Monday
Cyber Monday is rooted in recent history and gives shoppers a digital alternative to Black Friday's crowds and chaos. Expect this shopping event to grow as retailers expand their online operations.
Like in-person Black Friday events, you must show up early to enjoy the best Cyber Monday laptop deals. Some retailer sites may require a user account, so remember to sign up ahead of time to avoid missing out on your favorite laptop.
Don't wait for Monday, either. Similar to Black Friday, Cyber Monday deals are happening earlier and earlier. Look for cyber deals as early as Thanksgiving day or Wednesday for some retailers.
Cyber Monday is ideal for laptop discounts. Remember to have those promo codes ready at checkout; many eCommerce retailers will apply promo codes on discounted items, saving you 30% or more on some models.
You don't have to wait for your laptop to arrive, either. See if you can buy your laptop online on Cyber Monday and pick it up from the store on the same day; this trick could save you $10 or more on shipping.
Clearance Shelf
What do you do when all the sales events are over? Keep looking!
Stay on the lookout for big weekend sales, early-bird discounts, and daily discounts.
Remember to scour that clearance shelf. Clearance shelves fill up after the holidays and major sales events. You can save up to 50%, 75%, and even 90% off in many cases.
While it's rare for high-quality laptops to show up on the clearance shelf, you can find plenty of laptop accessories for your new device. You can score items like ergonomic rest pads, lap desks, laptop bags, USB flash drives, plug-in lights, webcams, and more cool accessories.
Refurbished, Used, and Demos
Okay, so you've exhausted every sale, promo code, coupon, and clearance shelf; now, what?
Your ideal laptop could be right under your nose. For example, if a particular laptop model is sold out, ask a store clerk if they're willing to sell the floor model at a discount. Most retailers will sell floor models as long as they're in good shape.
Retailers also sell laptops with damaged packaging at a discount. Manufacturer mistakes like missing AC adapters could also yield significant savings; these items typically end up as doorbuster deals. Even a missing keyboard key can slash a laptop price in half.
Used vs. Refurbished: What's the Difference?
Another option is a used laptop. With the right upkeep, used laptops can be just as powerful as brand new models. Big box retailers don't usually sell used laptops, but you can find local retailers that do sell used electronics.
Used laptops are less expensive than new computers; plus, you can apply coupons or promo codes to enjoy additional savings.
Read reviews carefully when buying a used laptop. You don't want an old laptop that breaks as soon as you bring it home.
Ensure you're purchasing a recently used model that's two years old; avoid used laptops that are less than five years old unless it's a really good deal and meets your needs.
The next option is a refurbished laptop. These laptops are more reliable and less "used" than used laptops; however, they're not entirely new, either.
Refurbished laptops are typically computers that were returned to the original retailer or manufacturer. In many cases, these laptops are just a few days old; customers may have returned them for different brands or models.
Instead of going right back on the shelf, a manufacturer may upgrade returned laptops with new operating systems, RAM, processors, and programs.
Remember to ask about warranties on refurbished laptops. Most retailers should extend warranties on refurbished devices.
Refurbished computers are less expensive than brand new models, but they may lack some features you need for school and work.
Try Your Luck at Giveaways
When all else fails, you can always try your luck at a laptop giveaway.
This idea isn't as hopeless as you may think. There are so many electronics giveaways floating around. The more contests you enter, the more chances you have to win.
Finding these giveaways takes a bit of work.
First, start with bloggers. Bloggers are always holding contests and giveaways from followers. YouTube vloggers and Instagram influencers regularly give away products, as well.
Narrow your list to bloggers, influencers, and vloggers in the tech niche; look for content creators who upload product unboxing videos, tech reviews, and giveaways.
Creators with millions of followers frequently hold giveaways; many of them promote giveaways on Instagram, so make sure to follow these accounts on all social media platforms.
Don't discount accounts with smaller followings. Aspiring influencers often hold giveaways to build up their accounts. Since there's a smaller pool of followers to choose from, you have a greater chance of winning!
Discover the Best Time to Buy a New Laptop
There are more opportunities than ever to buy a great laptop at an unbelievable price.
Don't leave any stone unturned. The best time to buy a new laptop could be right now!
Look for promo codes, coupons, used and refurbished deals, sales events, clearance shelves, and giveaways to find the perfect laptop for your needs.
Check out the blog to discover even more money-saving life hacks.