How to Create an Unbeatable Delivery Startup Strategy in 5 Steps?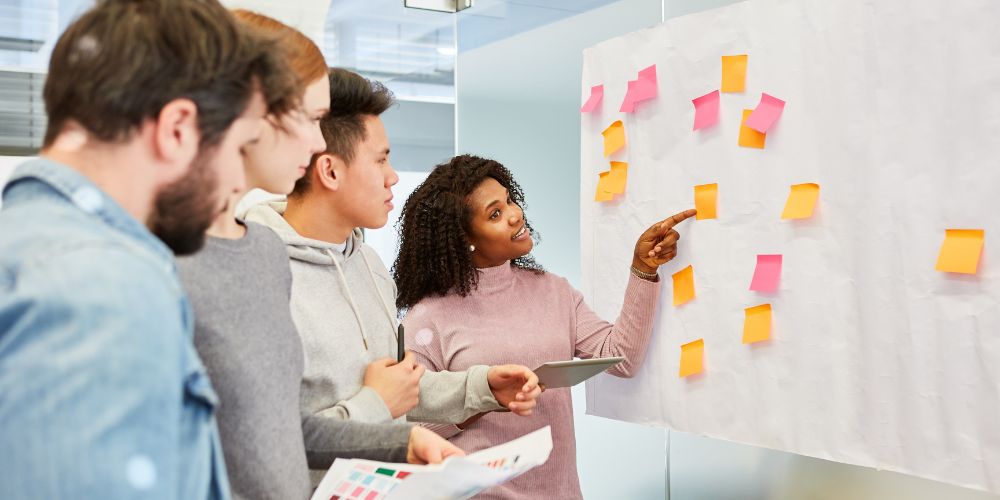 George Bernard Shaw once said, "Don't wait for the right opportunity: create it". This quote is very much relevant when it comes to grabbing or creating a business opportunity.
As per recent trends and extreme digitization, every sector has started featuring home deliveries, whether it is an order from a nearby food outlet or an overseas courier.
While it certainly can be profitable to start a delivery business, there are many factors that you need to consider when planning your venture. Running your own business requires dedication and commitment.
Learning the ins and outs of becoming a successful entrepreneur will take time, but the rewards can be well worth the effort. Using appropriate tools like a simple route planner & optimization scheduler will be a cherry on the cake.
Do you want to start a business but don't have the right ideas, resources or experience? Then let us guide and support you to create an unbeatable delivery startup strategy in 5 steps.
1. Curate a Business Plan
When establishing a new business, you should always create a business plan and plan things accordingly. It helps to know the flow in which you will carry out various tasks.
A good business plan should consist of below-mentioned points:
Creating your identity by deciding your company's name and tagline.
A description of your organization's mission, vision and goals.
An outline of the products or services you will offer and how they will differentiate from those offered by others in your industry.
Know your target market and identify pre-existing businesses in the same market.
Carry out market and competitor analysis.
A description of how you intend to finance your start-up, including anticipated sources and amounts.
A timeline that outlines milestones for the completion of each phase of your start-up project.
2. Manage fundings and make necessary investments
Starting any business is not possible without sufficient finances. So, make sure you have enough finances or some legit source to fulfill your financial requirements.
Instead of deciding lumpsum funding, make up a list of all the costs involved in setting up a delivery startup. Consider the below-mentioned costs:
Various permissions and paperwork costs
Buying/renting delivery vehicles
Buying/renting/leasing a warehouse
Hiring employees and their salaries
Buying necessary tools and equipment
Marketing costs
Other operational costs
You will have to utilize some funding in the initial phase, like duties and taxes levied in permissions and paperwork. You will need a warehouse to store and manage all the incoming and outgoing packages.
A vehicle is required to roam around cities and deliver packages. If you are not driving alone, you will need a delivery driver for the same. Other initial costs include buying tools and equipment, operational costs of vehicles, etc.
Some later-on investments include various marketing costs, adopting various technological advancements, expanding your storage space, hiring a fleet of employees, and much more.
3. Get permissions and insurance
While starting a delivery business, you must go through a paperwork trail. You will need to get local and federal permissions to start your next day delivery sydney. Also, to register your business, you will have to decide your business structure. There are many business structures like: 
Sole Proprietorship
Limited Partnership
General Partnership
Limited Liability Partnership
C-corporation
Limited Liability Company
S-corporation and much more
Another essential piece of paperwork is getting insurance for your business. Due to constant travelling mode, drivers, employees, and other vehicles are at continuous risk. To cover risks against accidents or natural calamities, you need insurance for all of them to prevent financial loss in case of any mishappening.
To be precise, there are many types of insurance, but below listed 3 are the ones that shouldn't be missed:
a. General liability insurance
General liability insurance saves your company against any lawsuit in case of an item is damaged or lost. This insurance covers risks involved against the packages. So, customers can ensure their package's safety and put up trust in your company.
b. Workers' compensation insurance
Workers' compensation insurance insures workers against any accident or on-site injury. This insurance covers all workers' medical costs, so the company doesn't have to bear such costs.
c. Commercial Auto Insurance
There is a significant role of vehicles in the delivery business. So it is essential to cover vehicles also and so, commercial auto insurance. This insurance covers the vehicle against any damage done or accident. It also covers any bodily injury or any garage expense.
4. Adopt Route Optmization Software
Handling a delivery business will require a lot of delivery route planning as there are a lot of packages to deliver in a pre-defined time boundary. You can even plan delivery routes manually using Google Maps and pen-paper. But it consumes a lot of time, and there is hardly any surety that the route planned is cost-efficient and fast or not.
To eradicate such problems, You should adopt route optimization software like Upper Route Planner that not only plans the route but also optimizes it so that all the deliveries are fulfilled fast and by saving fuel. Saving fuel costs can help you increase your profit margin.
Using Upper, you can add up to 500 deliveries in one route, unlike Google Maps, where you can add up to 10 stops only (including your initial destination).
Along with route optimization, Upper helps you with other business operations like dispatching drivers, generating reports, carrying out analysis, and providing proof of delivery.
In a nutshell, by using route optimization software, you can save route planning time, save delivery time, reduce fuel costs, and also carry out other business operations.
5. Market Your Services
Once you are done establishing your start-up, now it's time to reach people in different ways and let them know about your company and services. There are 2 ways to market your company: Offline marketing and online marketing.
Offline marketing: Offline marketing is a known and traditional way of marketing. It includes advertising in newspapers, hoardings, pamphlets, promotional events, and sponsorship.
Online marketing: Online marketing is the cheapest and fastest way to reach people locally and across countries. You can create social media accounts, post updates and achievements, and promote your business there. Also, Developing a website can help people know more about your delivery business and contact you.
You can even take the help of SEO techniques, and Google paid advertisements to get recognition among the general public.
To Conclude
Establishing a successful delivery business without any planning and techniques is hardly possible. So, make sure you follow all steps mentioned above and keep up your dedication and spirit until you find success in your business.