Common Weaknesses of Top Mobile Ad Networks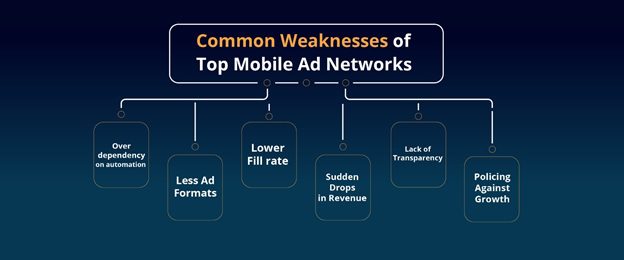 Mobile app publishers around the world tend to look for the best app monetization platforms. For this, these publishers partner up with the top mobile ad networks, often by just getting impressed by their popularity. However, whether an advertiser or a publisher, an ad network must be chosen based on its performance and offerings.
Mobile ad networks have been part of the in-app industry for more than a decade now. Out of the list of many, few have been able to list themselves down as the best mobile ad networks with a strong global presence. This is one reason why publishers to date trust the name even without calculating the performance-based outcomes.
When publishers opt for mobile ad networks, they often come across performance-based issues which they might never understand. A mobile ad network's performance depends on multiple factors that need to be considered before choosing it. Thus, a mobile app publisher must understand and evaluate it before partnering up.
Mobile ad networks act as a bridge between the app publisher and the advertiser to enable efficient ad serving. This process is backed by multiple features and strong technology to foster monetization and revenue growth. Mobile ad networks often take advantage of this by offering bidding options to the publisher. However, paying them less than what they receive.
Besides, with over 83.89% smartphone users in the world, mobile ad networks are growing as fast as the mobile advertising industry itself. With this growth and the need to earn revenues, mobile app publishers today greatly rely on the best mobile ad networks. But are these platforms perfect and absolutely secure to be relied upon? Well, after reading this article you might start thinking around a few things and reconsider your choices as an app publisher. Here are the weaknesses of mobile ad networks that you must know…
What Are The Weaknesses Of Mobile Ad Networks?
First, let's be clear on the fact that a best mobile ad network can also certainly have weaknesses. The weaknesses of mobile ad networks revolve around the technology in use, programmatic loopholes and also some hidden revenue sucking algorithms. Sounds shady, but yes, some top mobile ad networks do keep a hidden share of the publisher's revenue without letting them know. Despite all odds, mobile publishers still actively use mobile ad networks to monetize. Hence, it is high time now that we start discussing the real issues which are the weaknesses of mobile ad networks. This is what you need to consider…
Over-dependency on automation
Automation sounds great and works great but one cannot absolutely rely on it. Publishers actively depend on automation with the perception that it will enable systems to run smoothly without a hassle. In addition, automation is perceived to be highly accurate and performance driving. But, this is not the case.
Over dependency on automation in mobile ad networks can lead to many missed opportunities and lower revenues than the true potential. In this case, mobile publishers trust the mobile ad network with automation to an extent that they are unable to figure out the missing potential of automation.
Less Ad Formats
Ad formats are a need! Whether publishers or advertisers, both need creative ad formats to earn revenue at ease. Multiple 3D games like Shoot to Kill – FPS Commando Shooting Game today use highly interactive ad formats such as the Immersive Ads by ConsoliAds. It is not just the game that keeps the player hooked but also the highly non-intrusive ads that do not bother anyone. This FPS commando shooting game is one of a kind when it comes down to the staggering gaming experience as well as the ad campaigns.  
With the development of such games especially when Metaverse is evolving, new and better ad formats are a need.
Lower Fill rate
Mobile publishers can enjoy all the freedom to make a direct deal with advertisers to run ads into their mobile apps and games. However, they find mobile ad networks a lot more convenient to do so. This might surprise you but publishers who make a direct deal manage to avail greater fill rates than those who opt for mobile ad networks. The reason? Mobile ad networks have to deal with a lot of traffic all at once which often makes ad serving complicated. In contrast, when a publisher makes a direct deal, he or she has the complete freedom to allow the best ad to be served into the mobile app regardless of the rates.
Sudden Drops in Revenue
Mobile ad networks are constantly working to bring the latest technology to the table and make monetization and ad serving super easy. However, most of the time these updates result in unexpected crashes and revenue drops. Such unexpected intervals and hindrances cause revenue blockage or sudden drops. To add more to the misery, mobile ad networks then take a while to get back to their true potential and drive out revenue like it was before.
Lack of Transparency
This one weakness leads all others when it comes to working with a mobile ad network. Lack of transparency is not only bad for the publisher but is also ethically wrong. A mobile publisher has all the right to see and evaluate where and how his or her revenue is being generated. If a mobile ad network fails to provide transparency, one can always suspect something fishy.
A mobile publisher has the legal right to get a complete breakdown of real-time eCPMs and other performance metrics alongside the transactions
Policing Against Growth
Many top mobile ad networks in recent times have created such strict policies to limit publishers' revenues. These policies not just limit a publisher's true potential but also force them to change their practices according to them or else are not allowed to work along.
All these weaknesses bring us to the conclusion that mobile ad networks are designed and developed to only make publishers depend on them. These platforms provide hassle-free advantages but also hinder the real growth of a mobile ad network.